By Arthur Kunkle on Aug 20, 2010 with Comments 0
---
Planning your layout can be one of the most enjoyable parts of gardening. Writing "carrots" and "onions" in neat lines feels like you are half way to growing them. But first of all work out what you actually like eating, and look at the seed catalogues to get some idea of how much you can expect to harvest from, say, a 4-metre row of seed bed. You will avoid ending up with pounds of beetroot that nobody actually likes, and it will make best use of your valuable space.
If you have a small garden you may decide to leave out main crop potatoes. In a very small space, the most productive use of your vegetable plot may be a variety of salads. These can be sown in succession and can be cut-and-come-again mixtures like saladini, including lettuces, chicory or various oriental salads.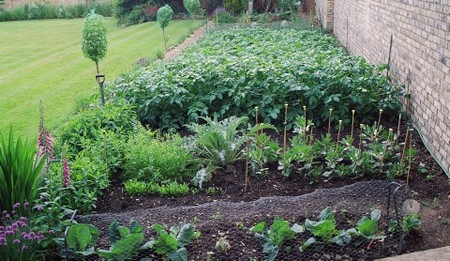 Scale
Even if you only have room for a bed 1 metre by 1 metre you could grow a variety of vegetables by the "Square Foot Gardening" method. The bed is divided into nine equal squares, using strings stretched across, with one "crop" planted in each square. So one square could hold five lettuces, nine beetroot, a thinly sown group of carrots, a patch of saladini or four mini cabbages. Because the area is so small, is never trodden on and needs no space between the crops for access, it can all be top quality, nutrient-rich soil. As crops finish, the soil can be replenished and replanted and the yields can be surprisingly high over the year.
On a larger plot a system of narrow beds has a lot of advantages. Some sort of design is useful whatever the size of the garden as it will help you to keep it organised and enable you to create the perfect atmosphere in your plot. You may want a formal vegetable garden with the crops lined out in orderly beds. Or you might prefer the cottage garden style with vegetables, fruit and herbs interspersed with flowers. However, even the most apparently casual style needs to have an underlying plan.
Draw an outline of your plot to scale, and mark out the beds. Add in any permanent plantings such as fruit trees. Keep copies of this outline plan and then each year you can fill in the cropping plan for that year. This is essential for planning your crop rotation and will serve as the basic record of previous years.
Further Readings:
Filed Under: Uncategorized
About the Author: Greenery always attracts Arthur Kunkle. He has a big garden where he plants many fruits and vegetables. His passion for gardening motivates him to write and share different tips on gardening.
Comments (0)