By Alan Kennon on Oct 15, 2010 with Comments 0
---
America's Next Top Model, a strong competition between women, features females who exemplify beauty as well as something else special about themselves. If you think you have what it takes to participate, follow these tips and tricks to put you on the road to win America's Next Top Model.
Although the competition accepts women of all shapes and sizes, it still has some physical requirements to fulfill. You must stand at least 5'7" tall and wear no more than size six clothing. You might also have a chance even if you come in at around size 12 as a plus size model competitor.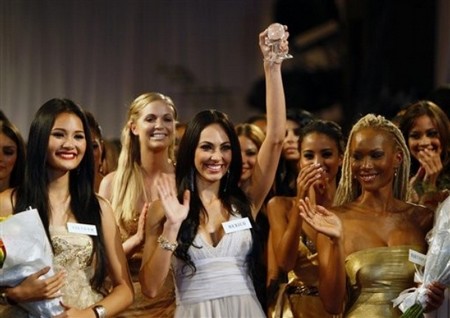 Think about the story of your life and make it sound as if you had to overcome difficulties to arrive where you stand today. Whether it concerns a family that doesn't support you, money problems or a medical condition with which you've struggled, find something that will touch Tyra's heart. A woman who has had to fight to become a model and who proves she would do anything to win has a lot to gain in the eyes of the jury.
Have the right attitude from the beginning, but don't overdo it. Even if you are very good, don't show all your qualities the first chance you have. Show Tyra and the jury you work hard and make improvements. If your performance remains the same from beginning to end, that's just boring—and it might get you eliminated.
Don't ever complain about the changes they want to bring to your appearance. Even if you think you would look terrible with short red hair, smile and pretend you think it's a good idea. If they want to strengthen up your teeth, let them do it. Models have to undergo changes all the time, even sometimes several radical changes a day. So prove to them you are model material and embrace change in any form that it comes.
Listen carefully to what the judges have to say about your behavior. If they say you come across as too arrogant or outspoken, take it down a notch. If they say you have a weak personality, build some confidence and do it fast. They might say you smile too much or that you appear too "commercial." Remember everything they say and obey. The judges always check to see if you listened to them, and not doing it might be reason for elimination. And keep in mind that the "bitch" character never wins the show.
Show enthusiasm about the great prizes the winner will get. Smile at the judges and let your eyes tell them you find the prizes fabulous every time Tyre announces them.
Don't ever hesitate on whether you want to win or not or on whether you want to be a model. You have to convince them that winning would be the greatest thing in your life and that you want it more than anything else.
Filed Under: Lifestyle & Personality
About the Author: Alan Kennon lives a very happy life with two kids and a lovely wife. He likes to share his life time experiences with others about how they can improve their lifestyle and personality.
Comments (0)