By Arthur Kunkle on Apr 02, 2010 with Comments 0
---
Yarrow is a member of the Compositae family, cousin to dandelion and daisy, a perennial with aromatic leaves. It is found all over the globe in hedgerows, lanes and fields, preferring light sandy soils. Yarrow is one of the finest and most versatile healing plants, and respected as such since at least the time of the Ancient Greeks and Egyptians. Dioscorides, the Greek physician, writing in the 1st century AD referred to the healing properties of yarrow for battle wounds. The name Achillea com­memorates the Greek hero Achilles, who used yarrow to heal the wounds of his friends. Achilles was renowned for his invulnerability. Throughout history until the First World War, yarrow has been used for treating wounds, hence its common names soldiers' woundwort and staunchweed.
Herbal remedy
The contemporary use of yarrow in healing relates back to its religious, mythological and folkloric his­tory with the primary effect on the blood and circu­lation. It makes an excellent remedy for wounds; the volatile oils are anti-inflammatory and antiseptic, the tannins are astringent and stop bleeding, the resins are also astringent and antiseptic, while the silica promotes tissue repair. An infusion makes a good vagi­nal douche, an eyebath, and a skin lotion for varicose veins and haemorrhoids. Yarrow's astringent effect is felt throughout the body, staunching bleeding from the nose, the digestive system and the uterus. It regu­lates the menstrual cycle and acts as a tonic to the nervous system. Yarrow is an excellent remedy for the digestive tract, stimulating the appetite, enhancing digestion and absorption. An infusion stimulates the circulation and promotes perspiration. It reduces fevers and clears toxins, heat and congestion by aid­ing elimination via the skin and the kidneys through its diuretic effect.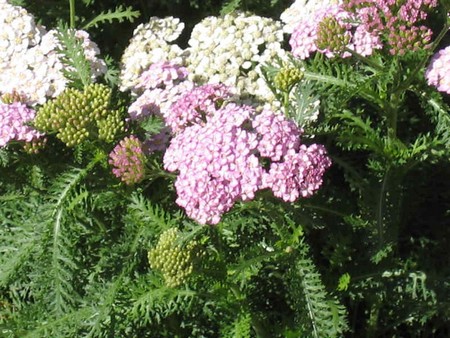 Aromatherapy oil
The essential oil of yarrow is used in aromatherapy for much the same range of problems. Its anti-­inflammatory and detoxifying properties are useful in relief of arthritis and gout. As an antispasmodic it relieves cramps, colic and painful periods. As an astringent, it stimulates the circulation and enhances digestion, also regulating heavy periods.
Homeopathic remedy: Yarrow
Homeopathically yarrow is used predominantly for venous hemorrhages and varicose veins which tend to occur in ruddy-complexioned people, after vigorous exercise or exertion, strains or injuries.
The flower essence
As a flower essence yarrow is used to protect against negative outside influences and for psychic shielding, bestowing the invulnerability of Achilles, if you need this service. It helps to clarify boundaries between people: particularly useful for those who are easily influenced and depicted by others and their environment. It is for those who easily absorb negative influences, and may be prone to allergies and environmental illness. By 'astringing' the boundaries around a person and preventing their energies from 'bleeding' into their environment, it acts to strengthen and solidify the self, the essence, allowing and enhancing their ability to heal, teach, counsel or follow their chosen path.
Filed Under: General How To's
About the Author: Greenery always attracts Arthur Kunkle. He has a big garden where he plants many fruits and vegetables. His passion for gardening motivates him to write and share different tips on gardening.
Comments (0)