By Marie Mayle on Apr 02, 2010 with Comments 0
---
When you get yourself geared up for an Internet marketing business, one of the most difficult tasks you may encounter is managing your time effectively alongside your other daily tasks. But through creative efficiency you can seek the help of an autoresponder to lessen the burden of your workload.
If you are looking for creative ways of making more money while still being able to save time and effort, you should use an autoresponder. There are several ways in which you can customize these programs to suit your business needs as you still tend to your other personal needs.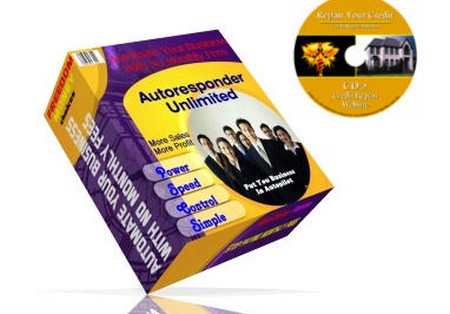 Autoresponders and testimonials
A creative way of using an autoresponder is to use it in conjunction with your own testimonials. If you do not have enough website space for testimonials, then you can opt to use your autoresponder for this purpose instead. If you do this, make sure all your testimonials are included. This will help make you look more professional and enable others to know more about your product.
Customize your website
You also have the option to customize your whole website in an autoresponder format. Though some may think that this is rather silly, it is actually quite an advantage. Some web visitors may not have the luxury of reading everything you have on your website and may even have to leave before being able to read important information regarding your products. Putting your website in an autoresponder format enables you to email them with bits and pieces of what you have currently in store that they may have missed upon visiting your site.
Terms and conditions
Another good way of utilizing your autoresponder is by including in it your own terms and conditions. Most often potential customers will not be able to go through all of the details of your terms and conditions although they are considered to be very important. It is therefore right to include it in emails from time to time. The terms and conditions which you would include in your autoresponder email may contain the exact copy from your site or certain detailed information from differing topics such as return policies, refunds, purchases, and anything else you think would be important for your customers to know.
There are certainly numerous creative ways in which you can maximize the potential of your autoresponder. You just need to spend some time to come up with ingenuous new ideas so you can make yourself more popular and more marketable by using your autoresponder program. Use it as a power tool, as is a popular marketing utility being widely used online. If you feel that your business is slowly draining you of the much-needed energy because of the demanding nature it possesses, then that is enough reason for you to avail set-up of your very own autoresponder program. But as you do this, do not be too complacent with the fact that you already own one. Make all the possibilities open for yourself.
Filed Under: Uncategorized
About the Author: Marie Mayle is a contributor to the MegaHowTo team, writer, and entrepreneur based in California USA. She holds a degree in Business Administration. She loves to write about business and finance issues and how to tackle them.
Comments (0)