By Leona Kesler on Nov 23, 2010 with Comments 0
---
A fresh pumpkin facial will clean up your pores, get rid of dead skin cells and leave you skin looking fresh and young. The fresh pumpkin pulp contains enzymes, anti-oxidants, vitamins and minerals that nourish the skin and make great anti-aging treatments. A fresh pumpkin facial also proves good for hydrating the skin, healing cracks and minimizing the appearance of sun damage. For the best results, you will have to combine the fresh pumpkin with yogurt, honey, carrot juice, lemon juice and grapeseed extract.
Mash one cup of fresh pumpkin until it reaches the consistency of a puree. You can use a food processor or blender, or you can use a fork to manually mash it. The puree will serve as the base of your anti-aging facial.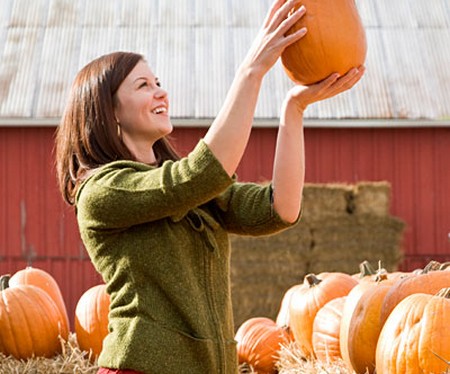 Put the pumpkin puree in a bowl and add a cup of yogurt, one teaspoon of honey and one teaspoon each of carrot juice and lemon juice. Mix everything together and stir well. You should use a wooden spoon to stir the mixture, as different substances might react and oxidize when in contact with a metal spoon. Add a spoon of olive oil and one teaspoon of grapeseed extract before stirring again until the mixture becomes homogenous and has the consistency of toothpaste.
Clean your face with anti-aging cleansing products and use a warm towel to wipe your face. The warm towel will open up your pores and make your skin ready for better absorption of the nutrients from the fresh pumpkin facial. If you have a facial steamer, use it for 10 minutes to get your skin soft.
Apply the mask to your face, neck and upper chest, using gentle circular movements. Avoid applying the mixture on the skin around your eyes.
Sit back and relax for one-half hour. The mask will completely dry out on your face, and you might experience a clinging sensation.
Remove the mask with a lot of warm water until there remains no more residue on your skin. Dry your face with a towel and wait 15 to 20 minutes before applying your usual face moisturizer. To complete the anti-aging effect of the fresh pumpkin facial, apply an anti-wrinkle cream. Use a special anti-aging treatment for the area around your eyes.
You can use the anti-aging fresh pumpkin mask once or twice a week. You can also alternate masks from time to time. You can make another anti-aging mask from one raw egg yolk, a spoon of olive oil and a teaspoon of honey. Follow the same steps as for the fresh pumpkin mask, making sure to avoid applying the mask to the skin around the eyes since it is very delicate and irritates easily.
Use an anti-aging serum and anti-wrinkle cream every day. Keep your skin hydrated and nourished, and include a lot of vitamins in your diet.
Filed Under: Food & Cooking
About the Author: Leona Kesler is a head-chef at a very popular food restaurant in New York. Also she is a blogger who shares her experiences, tips, and other informative details about food and cooking. Her recipes are featured on many magazines.
Comments (0)