By Leona Kesler on Oct 14, 2010 with Comments 0
---
The roaster ovens are small appliance which can be used in homes. It can be used to cook both the vegetables and the meats. Depending on the user, it can be used. They can be easily fitted in to ordinary electrical sockets. They can be easily placed in the kitchen, as they are very small in size when compared to the traditional ovens, (i.e. the conventional ovens).
The main advantage of the roaster oven lies in the fact that it requires less time to cook than the conventional oven. It costs less than the ordinary ovens. Because of its small place, the food inside can be cooked well and quickly, as it has only small place to heat. The roasters can be removed when the cooking is finished.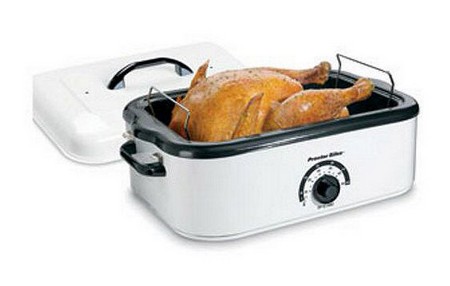 The first step is to read the user manual, it is very important, as it would give the details of the product. It would also say you how to handle it with care. Once you take the roaster out of the box, clean it well. Make sure that you wash the bowls cleanly with water. After washing it wipe it. Before using the roaster for the first time to heat, switch it on and allow it to heat for a period of about 15 to 20 minutes. This would eliminate the chemicals and other microorganisms inside the oven.
There are many things, which you can cook with this roaster cooker. It can be used even to bake cakes. They can be used in the same way as the conventional ovens are used, but it is small in size, so only a considerable amount of food can be cooked using it. The same roaster ovens can also be used as the cooker, to cook rice and many other items. There are also some additional things which can be performed by these roaster ovens. These roaster ovens would often come with buffet insertions, with the help of which you can keep the food warm for a long period of time.
If your roasting oven comes without the buffet insertions, you can buy them separately from the shops or even from the web sites. If you are heating the oven for the first time, then you will get a odor. This is perfectly normal. They main disadvantage is its sizes; it can cook only a considerable amount of food. They are suitable for the employers who would like to cook their food in the office itself. Once the food is cooked, open the door and take the dishes carefully. It would be very hot, hence handle them with gloves. Use the specified heat units mentioned in the manual. When used properly they are indeed a great appliance.
Filed Under: Food & Cooking
About the Author: Leona Kesler is a head-chef at a very popular food restaurant in New York. Also she is a blogger who shares her experiences, tips, and other informative details about food and cooking. Her recipes are featured on many magazines.
Comments (0)