By Roberta Southworth on Sep 21, 2010 with Comments 0
---
The term bidet may not be familiar to you when you first hear it. A bidet is an apparatus that looks like a standard porcelain toilet. It has the same function as a regular toilet as well. But a bidet is the upgraded version of a regular toilet. It comes equipped with water jets installed to dispense warm water for better hygienic care after you use the restroom.  A bidet can be used to clean the body and ease some of the discomforts associated with hemorrhoids, menstrual cycle pain, sexual intercourse and other ailments.  The warm water dispensed from the bidet is not only a cleansing agent, but it is said to be very soothing to these sensitive areas. Bidet use regularly increases the cleanliness of the user. It may also help prevent certain diseases and infection associated with not cleaning the genitalia properly after each rest room visit.  They say cleanliness is next to godliness.  If this is true, then a bidet is heaven sent.  Read on for more information on how you can use a bidet.
How to Use a Bidet
Necessary Items: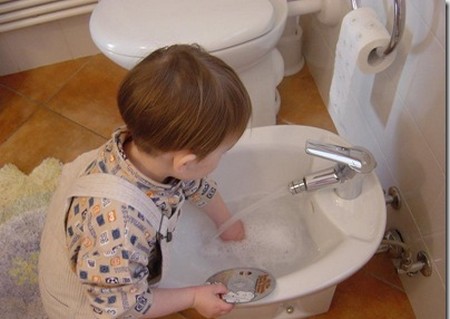 Instructions
Step 1
Shop around and find somewhere that sells and install bidets. Research prices and use the internet as a resource to find out the best deal available to you that is not so hard on your budget. You can have bidet features added to your standard toilet, or you can choose to have a separate bidet it another location right beside the original toiler. You should have someone come and look at your space to determine if you actually have enough physical space.. If bathroom space is limited this option may not work the best for you.
Step 2
After you have use the restroom, situate yourself down on the bidet in the same manner you sit on a regular porcelain toilet.
Step 3
Reach and activate the water. Adjust the pressure of the water flow to whatever is most comfortable to you. You can also change and customize the way the way is flowing to get all the sensitive areas clean. This is the best feature about the bidet. It is fully customizable.
Step 4
Thoroughly rinse and clean all the private areas that were in contact with impure substances. Some bidets even come with an air dryer addition but in most of them you need to dry the private areas using traditional bamboo toilet paper. If you don't have the air dryer, you can always use toilet tissue to pat the areas until all moisture in absorbed. If you don't like the idea of paper, use a clean cloth to dry the areas thoroughly.
Step 5
If your bidet is by itself, then you will need to rinse all residue out of the bidet after you are done using it.
Filed Under: Family & Relationships
About the Author: Roberta Southworth is a psychiatrist by profession. She likes to help out people by writing informative tips on how people can to solve their family and relationship issues. She is currently staying in Ireland. She has 5 years of couple counseling experience.
Comments (0)