By Jason Prickett on Sep 21, 2010 with Comments 0
---
Roof leaks are actually hazardous just as much as they are annoying. Leaks can cause floors to become slippery and cause an accident. There are ways to fix a leaky roof with the proper roof repair. Consider Tri Polymer Sealant to help solve the issues. The most common roof leaks are tiny pin holes int he roof. This is a fix that will last long term. Here is how you can stop a roof leak with little to no assistance. Read on for more information.
Items:
Hammer
Nails
Ice Pick
Paint Brush
Putty Knife
Paint Stick
Ladder
Tri Polymer Sealant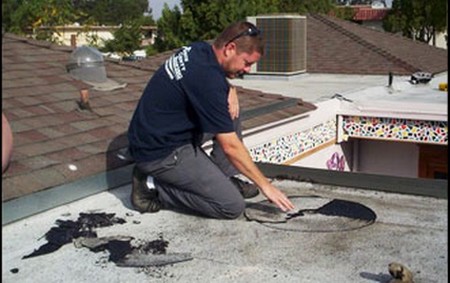 Step 1
Determine where the leak is coming from in the roof. You can do this if you have an attic easier than most. If you can see where the leak is coming from when you're inside, pierce the hole with an icepick to mark the place. This makes the place easy to see when you are on the roof top.
You can use a water sprinkler as an alternative to locate the point of the leak. Turn on the water and let it flow over the roof top. Then, fine the leak. Place something long in the hole to mark where it is The Tri Polymer Sealant is sturdy enough to put on in the cold or rain. However, there are some hazards associated with this, so it is better to wait for reasonable weather conditions.
Step 2
Climb onto the roof using a ladder. Find the nail or ice pick you placed in the whole to mark the position. Mark off where the ice pick or nail was. Remove the apparatus. Now, apply the Tri Polymer Sealant around the entire area. It's think and colorless. It will seep into the pin hole in the roof and seal it so no matter can get through. The clear color doesn't leave any tacky patches like tar would if it were used. This contributes to makes you patch appear more professional grade.
Step 3
Give the Tri Polymer Sealant a chance to set. Let several days lapse and then test to make sure there are no more leaks from this spot. You can do with using the water sprinkler method that was suggested in the previous step.
Step 4
If you don't feel comfortable doing this work by yourself, then feel free to ask for help. It might turn out that it's a bit riskier or the roof is not as easily accessible as you thought. You can always call commercial roofers to take care of it for you. Just keep in mind that this option is always there for you. If you want to leave it to the pros like this Galveston roofer, then that's perfectly reasonable as well.
Filed Under: Home & Maintenance
About the Author: Jason Prickett loves to write about home maintenance and stuff you can do yourself instead of hiring any professional. His step by step guides will assist you in completing your home maintenance tasks.
Comments (0)