By Jason Prickett on Jul 30, 2010 with Comments 0
---
That too it's really a headache to us when your kitchen sink gets clogged. Besides its inconvenient, it also makes our mood spoil to perform our kitchen duties properly. Actually it can be performed without using chemicals. If you are looking for trustworthy emergency plumbers, there is a new app with intrinsic features that allows you to book a local plumber or even a specialized plumbing company for emergencies like this one.
Procedure:
Usages of vinegar and baking soda:
Combining vinegar and baking soda is more effective in resolving clog problems. Before using this method, make sure that sink in the kitchen is free from all debris and kept dry. If you don't have any rubber stopper you have to prepare a big rag to hide the sink. Because of the combination of vinegar and baking soda will sputter and hiss. This reaction will not allow drying the clogging culprits to loosen in the kitchen pipes. Keeping sputtering and hissing contained makes all gunk and debris to forced down. To go ahead first of all take a bottle of dry baking soda and pour it into sink hole. Then note down the size of a bottle and take white vinegar which is distilled. Pour those into a sink hole in kitchen as good and cover with cloth stopper or rubber at once. Just leave it for half an hour and see what wonder is happening. After doing it heat a pot full of tap water. Once it boils pour it into the sink gradually for the final wash to remove the clog. Repeat it once again if this method does not help on the first time.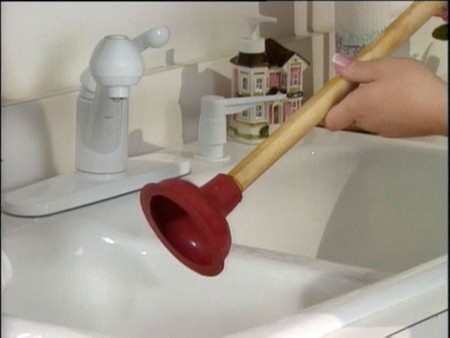 Usages of enzyme solutions:
Most of the organic enzyme chemical solutions have proved to deliver amazing results when it is used for household cleaning and for unclogging agent. To prepare your home enzyme solutions first of all collect 300 grams of new vegetables and fruits scraps. Using nice odor vegetables and fruits for doing this task will be better. Celery, grapefruit, oranges and lemons are examples. Cut it into two halves and set aside. The next step is to keep safe a two litter pet bottle clipped with a cap. Already used juice bottles can perform this job. Give a gentle shake to the juice dregs so that it won't compromise the enzyme cleaner's quality. Then fill with one litter of tap water in bottle. Put those in 100 grams of brown sugar and molasses. Finally put those in sliced vegetables or fruit scrapes and replace with the bottle cap. The prepared solution should be kept separately for three months in a dry and cool place.
Whenever you see the expanding in the bottle because of fermentation process just unscrew the bottle cap in order to release those in filled gases. After a gap of three months the organic solution will be ready to use. Simply just mix a table spoon from it with a litter of tap water and spread down it on the kitchen sink.
Prevention is better than cure. So it's better to avoid your kitchen sinks from clogging. However, if you encounter any plumbing issue that requires immediate attention, you might have to hire emergency plumbers.
Filed Under: Home & Maintenance
About the Author: Jason Prickett loves to write about home maintenance and stuff you can do yourself instead of hiring any professional. His step by step guides will assist you in completing your home maintenance tasks.
Comments (0)