By Andrew Reinert on May 25, 2010 with Comments 0
---
Rosacea is a disease of the skin. It's a chronic ailment that does not have a known cure but is becoming common. The condition itself involves the facial surface including the cheeks, nose, chin, forehead and eyelids. People with Rosacea flush easily, have increased visibility of veins in the face, blood shot eyes and acne like eruptions. The causes are now being said to be linked to environmentally and even food allergies. Even though there is no known cure many people who have Rosacea have found many ways to combat their flare ups. They rely heavily on natural herbal remedies and some of the therapeutic effects herbs may have on the skin. Some herbal remedies target the body's bacteria making abilities and encourage growth of good bacteria over the ones that cause infection and flare ups. If you suffer from Rosacea and need a few tips to help you prevent flare ups, calm and soothe irritated skin and reduce the effects, this may help.
Procedure:
Step 1
Rosacea can be treated with a supplement. Vitamin supplements can enhance the body's natural ability so that they outward appearance of Rosacea is reduced significantly. Choose a daily supplement that has both Zinc and a high potency antibiotic.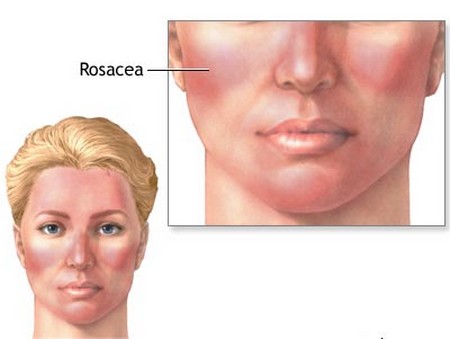 Step 2
If you are currently experience and outbreak of Rosacea there are natural ways to calm the visual aspects. You'll need 50,000 IU of vitamin A daily. Please be advised, if you are pregnant you should NOT use this step.
Step 3
Supplements help as well. Find a supplement that contains both Acidophilus and Bifidus. Both of these herbs help the normal bacteria growth called normal flora remain balances. This balance in turn helps the healthy bacteria in the body prevent future break outs from Rosacea.
Step 4
Most people have mild allergic reactions to everyday foods they eat. The reactions are so small sometimes that they can completely unnoticed. If you suffer from Rosacea, after eating you should try drink a glass of water with 1 TSP of raw apple cider vinegar. The apple cider vinegar works to prevent the allergic reactions to food that may cause an outbreak. This can be done daily to inhibit break outs as much as possible.
Step 5
Both Rosacea and Eczema sufferers have several allergies to common foods and items. It is a good idea to schedule an appointment with your Physician to have a battery of tests performed. These tests will determine how many allergies you have to food and environmental items and also to what degree. Some allergies are worse than others. While you may not notice some of the milder allergies they could still be contributing to Rosacea breakouts.
Filed Under: Health & Personal Care
About the Author: Andrew Reinert is a health care professional who loves to share different tips on health and personal care. He is a regular contributor to MegaHowTo and lives in Canada.
Comments (0)