By Andrew Reinert on May 25, 2010 with Comments 0
---
People who suffer from hiatal hernia may not realize they have a hernia. Some sufferers get symptoms that make them extremely uncomfortable. Others have almost no symptoms at all. Men and women over the age of forty are known to suffer from hiatal hernias. These hiatal hernias occur when stomach tissue breaks through the esophageal tissue. This break through then weakens the esophageal valve. This allows acid to reflux into the esophagus. When acid starts to reflux into the throat erosion can occur of those areas. Stinging and burning can occur. These type of hiatal hernias can be treated with natural means and herbs.
Things You'll Need:
Evening primrose oil
Digestive enzymes
Whole-leaf aloe vera juice
Licorice root
Fennel seeds, slippery elm
Sheep sorrel
Black walnut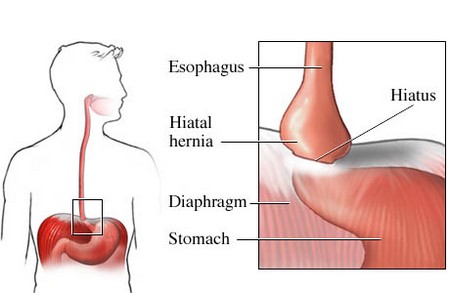 Step 1
Start to add some supplements into your diet. Take 1,000-2,000 mg of Evening Primrose. You can take this in capsule form. Evening Primrose contains essential fatty acids that can reduce inflamed tissue and aid in digestion.
Step 2
Add some extra digestive enzymes to help you with your hiatal hernia. 1,000 mg of an enzyme should help. The increase in enzymes have the most beneficial effect when taken on hour before a meal. The discomfort can be alleviated with enzymes and herbal supplementation.
Step 3
Try adding some aloe vera to your diet as well. Aloe vera has a beneficial medicinal effect on gastrointestinal distress. Drink a glass of aloe vera juice before every meal. Consume the drink slowly and give yourself time to digest it. Take small sips as opposed to big gulps. Make sure your clothing and accessories are not restrictive.
Step 4
Other herbs such as licorice root, fennel, sheep sorrel, black walnut or slippery elm can also help improve digestion. They come in powder form. You can mix any of these with water or ginger tea. Or you can also purchase them in capsule form if you don't like the taste of them.
Step 5
Calcium phosphorica can help with severe hiatal hernia pain. 3-4 tablets daily can relieve the stinging and burning. Calcium phosphorica replaces mineral salts that contributes to healthy cellular production.
Step 6
Get some exercise. Abdominal exercises can help hernias heal faster than without. This exercise can increase overall health and well being. Try and get at least 15-20 minutes of exercise in 3 times out of the week.
Step 7
Some massage therapy may help relieve a hernia. Find a reasonable masseuse in your local area. Make an appointment to get a massage. Massage the area to stimulate blood flow in the abdominal area and indirectly expedite the natural healing process.
Filed Under: Health & Personal Care
About the Author: Andrew Reinert is a health care professional who loves to share different tips on health and personal care. He is a regular contributor to MegaHowTo and lives in Canada.
Comments (0)