By Andrew Reinert on Feb 19, 2010 with Comments 0
---
If blood sugar gets so high that your body starts burning fat stores for energy, you may start producing ketone bodies which build up and spill over into the urine. The combination of high blood glucose, ketone bodies, dehydration, and various chemical imbalances, if untreated, leads to a condition known as ketoacido­sis, most commonly seen in Type I diabetics, although it is not un­known in Type II diabetics.
When you have another illness on top of your diabetes, you are at higher risk for ketoacidosis; therefore it is vital to check your blood glucose frequently. Also, when you are home sick, you should ask someone to check on you a few times a day. Ask your spouse or a friend (someone close who has a key to your house) to call, and instruct them that, if you don't answer the phone, they should go to your house; if they find you unconscious, they should call an ambulance without delay.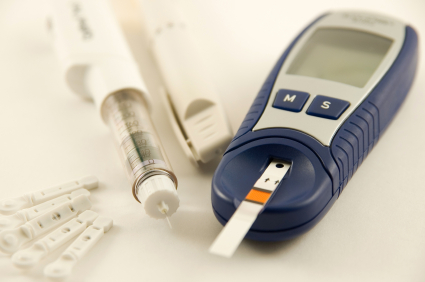 Diabetic ketoacidosis is treated with intravenous fluids to di­lute the blood glucose and rehydrate you. Chemicals (most often potassium and sodium) are added to the intravenous fluid to cor­rect the body's imbalances, and insulin is given to get glucose out of the bloodstream and into the cells. Once blood glucose levels have dropped to an acceptable level, the body needs fuel so it will not manufacture more ketones, so glucose is added to the intrave­nous solution. Emergency room physicians will get you stabilized and then will admit you to the hospital where you will stay for a day or two to make certain that you have safely passed the crisis.
Matthew got either the stomach flu or food poisoning and started vomiting. He couldn't eat. He knew enough not to take as much insulin as usual, but other than that he didn't think too much about it.
After three days he felt better and went back to school, but on the fourth day he felt awful. He was in glee club prac­tice and had to leave the room to throw up. He got sent home from school and his mother called the doctor, who instructed her to take Matthew right to the emergency room. When he got there, they took some blood and started intravenous fluids be­cause he was dehydrated. He had to wait about two hours for the blood tests to come back, and when they did, Matthew was admitted to the intensive care unit. He was so dehydrated that he got eight liters (about eight quarts) of fluid before he had to urinate.
Filed Under: Health & Personal Care
About the Author: Andrew Reinert is a health care professional who loves to share different tips on health and personal care. He is a regular contributor to MegaHowTo and lives in Canada.
Comments (0)