By Fred Goodson on Mar 28, 2010 with Comments 0
---
To discipline and train a pup effectively, you first need an effective form of communication—and speaking to your dog as you would to another person will not get you anywhere. Many dog owners tell us that their dog fully understands everything they say to it. Our answer to this is, "Tie your dog up, and, as soon as it starts barking, write down everything it says." It stands to reason, after all, that as we are far more intelligent than our dogs, we should be able to understand everything they say!
Too many new puppy owners expect far too much from their little charges in terms of what they are able to understand. To be effective, the language used for puppy training must be short and simple.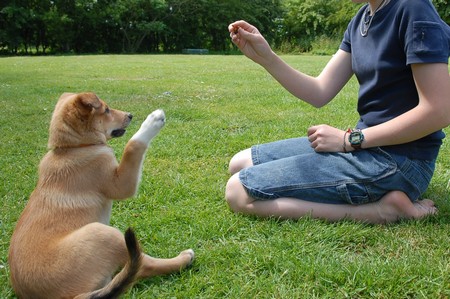 It is well known that a human baby simply cannot understand language until about six months of age, and at that age will grasp only the very basics. So we cannot expect a creature that has no concept of our language ever to understand it fully— particularly if this creature is an animal that can only communicate with growling, barking and guttural sounds.
However, dogs can relate to voice tones, provided the tone matches the accompanying gesture. The growl is already recognizable to a dog as a reprimand, and is a natural part of its vocabulary, being the sound its mother or litter mates would make when all was not right. Therefore a guttural growl sound, uttered when your pup does something you don't want it to do, followed by a soft, pleasant sound as soon as it stops doing the wrong thing, is all that is needed in most cases.
In our research we have found that the commonly used word "No" is not suitable as a dog reprimand. It is widely used mainly because it is more acceptable to humans than a growl sound, being far more pleasant to human ears. This would be fine—if we were training humans! The problem is, it means nothing to the dog, and is largely ineffective due to the rounded sound the word makes. It is impossible to make an effective growl using the word "No."
The correct words to use when reprimanding are "Bad" or "Bah." Either word, uttered in a growling, guttural voice, will usually get an immediate response. Then, if the dog reacts correctly, follow with a softly encouraging "Good dog."
Remember, too, that your puppy does not understand our language. Therefore, it is unfair to expect it to understand long strings of speech. Talking in long sentences will only slow the learning process down. You need to keep all communication simple: use the same principle as you would if you were teaching a small child how to speak English. For example, you would not start by using long sentences such as, "This is the table where we sit when guests come for dinner." You would be more likely to point at the table and say, "Table."
To help your pup learn quickly, you should therefore choose your reprimand word as suggested. Once you have chosen it, stick to it, and use only that word when you give a reprimand. Do not use it as part of a longer command you are giving the pup. This way it will catch on more quickly.
Filed Under: Pets & Animals
About the Author: Fred Goodson has a passion for pets and animals. He has 4 dogs and is planning to have another one. He is also a blogger who writes about pets and animals. Currently, he is living in New Jersey.
Comments (0)