By Fred Goodson on Jul 30, 2010 with Comments 0
---
When you are hiking, the trail dogs can be good companions for you. They can provide you with a sense of security. If you like viewing the country side and you have not got a buddy who can accompany you every time, you can have a trail dog with you. All dogs are not up to the standard of the task. You should consult a veterinary doctor while deciding the variety of dog. You may also seek advice from your friend who possesses a trail dog.
A trail dog should be:
able to move with your speed without being exhausted.
Always present with you every time without going elsewhere after rabbits etc.
capable to stay close to you i.e. not disturbing the usual traffic.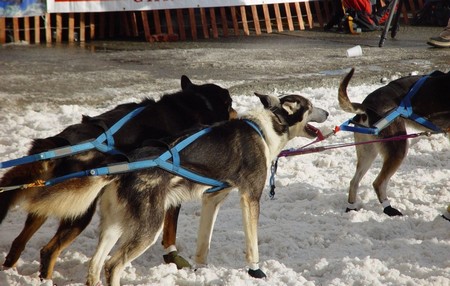 With the above conditions you should also train your dog in a proper manner as stated below:
You should plan exercises for your dog in order to make it do hard work. These may be hiking. You can also bike with the dog following you. But this activity must not exceed the limit. You must always remember that your dog should remain healthy.
The use of simple commands makes it very easy to train the dog. 'Come!', 'go!', 'Halt!' etc.
'Move!', when you want to resume its exercise. 'Heel!' makes your dog follow your heels. This can be done by guiding the dog with a shaft, directing the dog to come following you by pointing at your rear. It is very easy to try the following of the dog when you move on the road.
'No!' may be used when your dog begins to distract from the path and moves towards the rabbits. The distraction of the dog towards the wild-life is not easy to ward off. Thus, you should give due attention to this fact while training the dog. You should always use this when it is going in the way you do not want it to go.
3. You may walk with your dog in the morning when the conditions are the most appropriate and the dehydration does not occur in morning, usually. There is no traffic on the road in early morning. Thus, your dog can remain completely safe from serious consequences of traffic.  Weather conditions cannot be denied while conducting training sessions. You should determine the needs of your dog. You must give importance to its food and water. A session of few minutes every day is quite enough for the training purposes of your dog. It is fun to go hiking with your dog.
Filed Under: Pets & Animals
About the Author: Fred Goodson has a passion for pets and animals. He has 4 dogs and is planning to have another one. He is also a blogger who writes about pets and animals. Currently, he is living in New Jersey.
Comments (0)