By Alan Kennon on Aug 11, 2010 with Comments 0
---
Sarong is the famous fabric which is rectangular in shape it comes in different varieties like plain, ornamented. It may also be fringed or dyed in color and it is used for tying around the waist of people. It is nothing but a rectangular fabric which is lengthier to wrap around it over the body for two times. By doing so, it is called as sarong. It is used in different occasions and also used for many purposes all over the world. It is suitable for everyone due to its simplicity. The following tips help you in tying sarong over the body.
Procedure:
There are two keys for tying a sarong in a good manner. First of all, everyone should choose the correct size of sarong which best suits them. You need to wrap them twice around the waist so that you should have enough lengthy fabric. You can also wear as a dress in special occasions. In that case, you should have extra lengthy fabric. For this case, sarongs are coming in a common size which fits everyone and there are also varying length sarongs. Be clear in your size while buying the sarong so that it would perfectly fits you.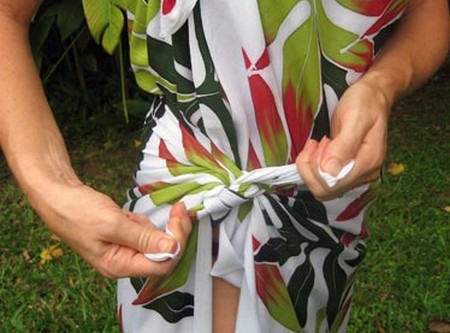 Then the problem of tying arises, the sarong should perfectly around your waist. You should place it evenly in to your body so that there is no unequal endings in the place of knot. People experts in tying sarong can see different methods in doing that. They find it easy to wear sarongs for them and also for others. They tie them in many different methods in order to attract others. There are many varieties in tying them as halter top tie for dresses, shoulder wrap, strapless tie for dresses and skirt tie.
Now, we will see the procedure for tying a simple skirt tie variety of sarong. First get the sarong which best suits you and completely wrap it around the waist of your body. Wrap it around completely so that the sarong covers the waist fully and then hold both sides of sarong after tying them. Then keep their ends in each of your hands. First start with the right hand, you should extend the sarong from your right side so that the faces of fabric should be outward in position.
Then form the rabbit ear from the fabric with the help of the right fist. You have to repeat this process again on the other side and with the help of the left fist. Now you will get two rabbit ears and you should tie them together to form a knot. You can get attractive shapes from the knots by adjusting them at their loose ends.
Filed Under: Lifestyle & Personality
About the Author: Alan Kennon lives a very happy life with two kids and a lovely wife. He likes to share his life time experiences with others about how they can improve their lifestyle and personality.
Comments (0)