By Alan Kennon on Mar 27, 2010 with Comments 0
---
A first birthday is basically meant to be celebrated with family and closest friends. You may invite family who live near you. If your child regularly plays with other children, you may include your child's playmates and their parents in your family celebration or invite them to a small, separate party. Here are helpful ideas on how to throw a 1st birthday party:
Steps
1) Use customized invitations. Make the invitation cards yourself so you can customize it more to your liking and for a more personal touch.  Here are ideas that you can try: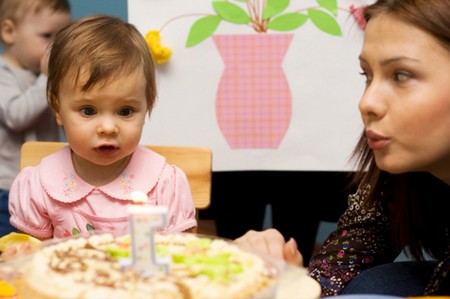 Cut a number 1 from bright colored paper. Write the celebrant's name on the front of the number and the party details (date, time, venue, etc.) on the back of the number.
Print copies of a recent photo of the celebrant and attach to a slightly larger piece of paper. Write "Look who's turning 1!" above or below the photo and write the party details on the back.
Tie one birthday candle to the invitations.
Make a birth certificate invitation, modeling it after a real birth certificate. Fill in some of your baby's vital statistics along with the birthday party information.
2)   Put up decorations. Try the following:
Personalized first birthday banner.
Large number ones cut from brightly colored paper and hung around the party location.
Favorite pictures of the celebrant.
Stuffed animals
Happy first birthday banner or poster for guests to sign and add their best wishes.
Helium balloons and streamers that fit the party theme.

Choose pictures and mementos from your child's first year then frame them on colored paper and attach them on the walls.
Use your baby's favorite toys (or photographs or special memorable items from the past year) as centerpiece.
3)   Prepare fun games, activities and entertainment. Here are some samples:
Read or tell a favorite story
Show home video of baby's first year
Have children sit in circle with legs apart and roll large ball to each other
Decorate wagon and pull children for rides
Have a play area with blocks, stacking toys, pull toys, and other young favorites
Decorate several large cardboard boxes and allow children to climb in and through boxes
Pull-string piñata
How-well-do-you-know-baby game
Baby-can game
Arts and crafts like finger painting, painting with water books, and hand-prints in plaster or clay
4)   Serve food for the guests. Include fun foods and food for adults. Finger foods are the best. Below are some ideal party foods: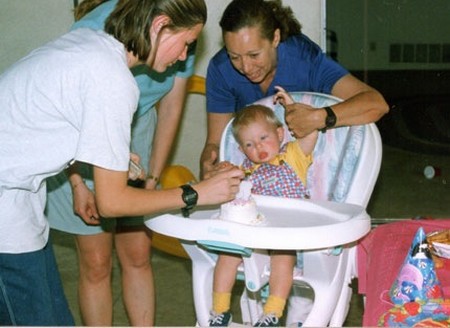 Animal crackers or mini cookies
Peanut butter and jelly or cream cheese sandwiches
Applesauce
Bagel bites, cupcakes, pretzels or sliced bread
Ice cream
Juice boxes
Cheese cubes
Apple wedges, pear wedges, berries, grapes or other cut fruits
Baby carrots, olives or other raw vegetable platter with dip
5)   Hand out party favors. Like:
Beach balls
Blowing bubbles
Picture book
Finger puppets
Filed Under: Lifestyle & Personality
About the Author: Alan Kennon lives a very happy life with two kids and a lovely wife. He likes to share his life time experiences with others about how they can improve their lifestyle and personality.
Comments (0)