By Darlene Aronson on Jul 30, 2010 with Comments 0
---
If you want to be a successful teacher, you should teach in a way that can develop interest in the children. If you can make them happy, you can teach them anything. So an effective teacher should have these qualities.
Same is the case with teaching foreign language. If you want to teach any foreign language to the children, you will have to adopt a style which can develop interest in them. Do not panic if your own understanding is incomplete, once you teach them they will themselves correct your mistakes too.
Following are the steps that can help you in teaching young children a foreign language:
Procedure:
You should not memorize them anything. Instead adopt a way in which they can understand things. You can use natural ways to let them understand. For example, if you will take quizzes with regular conversation it would be a great idea. Do not make them write and learn things by repeatedly saying them. You can teach them with games and other activities so that it would be fun for them.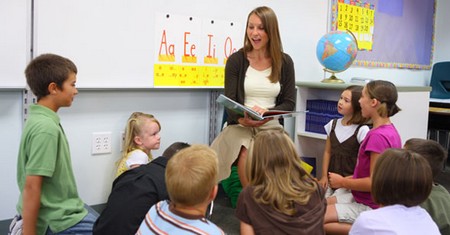 You can provide them with material to learn foreign language. But stay away from text books. Children do not like books with a lot of text on them. You should rather use books with pictures. They will pick things in this way more clearly. You can use comic books and toys too. These books should have written words in foreign language as well as in native language.
Your regular conversation should be in foreign language. You can make them understand by talking about scheduled things. For example, their eating time, their bathing time, their playing time, their studying time. You should talk to them in foreign language followed by native language. Repeat this procedure for about a month; after that speak in just foreign language. At that time, they would know most of the words.
You should arrange gathering of any foreign native and the children. He will talk to them in his native accent which will help them in developing their accent. The style of the native speaker can be different from yours if you are not very good at speaking that language. So it's always better to have some native speaker to help you too.
Once the children get to know a bit about that language, start conversing with them in that language. It will help them learn that language quickly. With age you can replace the comics with the text books too. But remember; try to teach them with fun so make sure to prepare some short funny comics ahead!
Filed Under: Education & Training
About the Author: Darlene Aronson holds a degree in English literature and is a college teacher in Texas, USA. She likes to help others by sharing her experiences in education and training field. She has written for many blogs as well as local magazines.
Comments (0)