By Jason Prickett on Mar 27, 2010 with Comments 0
---
Once you have satisfied yourself that the opening will be an improvement to your home's layout, consider the practical problems: first determine whether or not the wall is loadbearing oranon-loadbearing partition. Mark out the proposed opening on the wall with chalk to help you visualise its size and proportion. Bear in mind that a loadbearing wall will need a beam spanning the opening with at least 150mm (6in) bearings at each end.
Choosing a beam
The most suitable beam for a through room is usually a rolled steel joist (RSJ), although this type of beam will require special preparation before it can be plastered over. Reinforced and pre-stressed concrete lintels can also be used for openings up to about 3m, but, over a wide span, their considerable weight makes them difficult to handle; pre-stressed types are lighter but best suited to single door or hatch openings rather than wide spans. Pressed steel box lintels-available in lengths up to 5.4m (about 18ft) – are much lighter and can be plastered directly.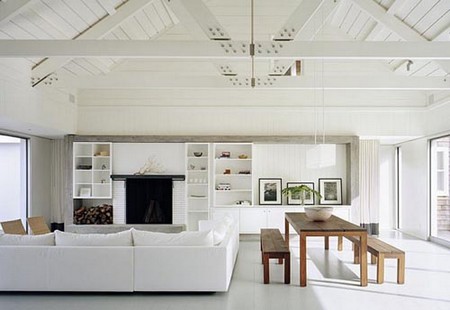 What size beam?
For specifying an RSJ the following rule of thumb can be employed, although exact details depend on the particular location and the result must be approved by the Building Control Officer. For pressed steel lintels, refer to the manufacturer for sizes:
Height of opening
The height of the opening is to some extent determined by the height of the ceiling and the depth of the beam. The depth of the beam is determined by the width of the opening it has to span, and the load it must carry. Consult a structural engineering professional who, for a fee, can calculate this for you. The beam can be positioned directly under the ceiling joists of a low ceiling. Doing all these, you can also consider looking for an Earthquake Retrofitting Services to help safeguard your investment.
Applying for permission
Before any work is started on a loadbearing wall you must seek approval from your local authority's Building Control Officer. He will require a drawing showing the proposed opening, its overall height and width and how the structure above the opening is to be supported. This need not be drawn up by a professional, but it should be clear. Approval is unlikely to be withheld providing the work complies with the Building Regulations. The BCO must be satisfied that the removal of the wall will not weaken the structure of the house, or any buildings attached to it, and that it does not encourage the spread of fire. Where a party wall is involved, it will be necessary to get written approval from your neighbour. The BCO will advise you.
Filed Under: Home & Maintenance
About the Author: Jason Prickett loves to write about home maintenance and stuff you can do yourself instead of hiring any professional. His step by step guides will assist you in completing your home maintenance tasks.
Comments (0)