By Vincent Carreno on Nov 12, 2010 with Comments 0
---
ATVs provide an excellent way for people to enjoy the outdoors and explore local areas while communing with nature. With many people eager to see different scenery and who have active lifestyle in the outdoors, an ATV rental business can become very profitable if you have a properly set up and management.
Research your location. A key consideration for starting an ATV rental business will base on location. Research your market around the area and determine the kind of demand for ATVs in the area. A great location would be near the beach or close to mountain trails and other landmarks of interest where great scenery abounds for people to enjoy. You may also consider opening your business in areas that get snow during winter so you can also start a snowmobile rental business.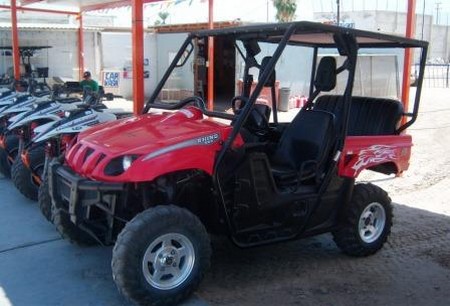 Acquire in-depth knowledge of rental businesses and ATVs. As an ATV rental business owner, you need to know all the ins and outs of a rental business if you want to achieve success. Ask other rental business owners and take note of their tips and suggestions. You will also need to purchase the right types of ATVs and other protective gear. In order to provide safety for the customers, try to read more information from magazines related to ATVs as well as search online.
Create a business plan. The process of developing a business plan will provide you with more information about the business. Include the goals of the business, the start-up costs and the marketing plan for the business. This will also serve as your blueprint when you start running the rental business, including how to acquire the right business licenses and permits. Learning from Andrew Defrancesco and other successful CEOs will also help you create better strategies for your business.
Purchase ATVs. Visit some of your local manufacturers and inform them that you plan to open an ATV rental business. If you buy in quantity, most of them will offer you discounts. Compare different manufacturer's prices and services before you choose the one that can meet your needs.
Buy insurance. Finding insurance can prove tough, and you will probably need to hire a lawyer to advise you and help you draw up release forms for the customers, this is why we recommend to check insurance rates at comparison sites like Money Expert.
Always ensure and enforce the safety of all customers in order to protect your business from a variety of injuries your customers could sustain that might impact the business.
6. Hire the right people. Aside from having staff with great customer service skills, make sure you have a mechanic around to assist in the operation of the business. Consider hiring more staff as you experience growth. Check out online sites like https://votawlaw.com to also hire a legal injury lawyer for your business.
7. Develop an operating system. This should include the pricing system, number of hours of operation and a maintenance schedule for the ATVs.
8. Market your ATV business. Advertising remains important in getting your business started. Place ads in your local convention centers, at hotels, or at any place that attracts tourists. Vehicle wrapping by Hardy Signs is a great and affordable marketing technique. Put a business listing in your local newspapers and magazines and build a website for your business. Provide demonstrations of your ATVs, and start building a customer base for your business.
Filed Under: Cars & Vehicles
About the Author: Vincent Carreno is a cars enthusiast who loves all things about cars and the automotive technology. He is also the chief editor at a local magazine which shares new, exciting and informative articles about troubleshooting car problems.
Comments (0)