By Marie Mayle on May 24, 2010 with Comments 0
---
Is it time for a career change? If you are searching for a different career that is fun and exciting, then maybe starting a wedding makeup business is right for you. The wedding business is very lucrative. If you have a creative flare, artistic eye and a love for formal events and weddings, you may have found your dream job. You can help women look their best on their special day. You may also consider starting your own line of makeup products. You'll need to learn how to formulate the products and then invest in custom cosmetic packaging.
Here is how you can start a wedding makeup business.
Procedure:
Step 1
Write out a real business plan on paper so that your goals are more concrete. This is your instruction guide eon how to get to your dreams of success. Your plan needs to be very detailed. As you form your business plan, also outline who your target demographic is. Think about whether you plan to offer your services to other events outside of weddings.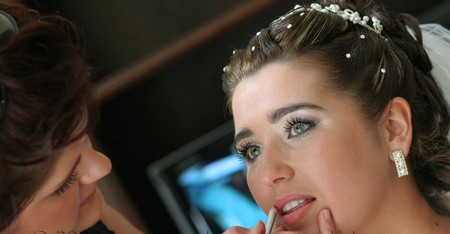 Step 2
Research local requirements to run this type of business. Find out if your state requires you to have a cosmetologist license to pratice make up artistry fotr weddings. Check with your local state advisory board for info.
Step 3
Educate yourself about your craft. Take a few make up courses. You will learn tips and procedures on how to apply makeup. You can search online for makeup schools in your area.
Step 4
Educate yourself about how to keep your make up tools clean. Some classes touch on this briefly, but you should find as much information on this subject as you can. You want to have the highest standard when it comes to being hygienic.
Step 5
You want to purchase the tools and supplies you will need to run you business. You need to make sure your products are quality and that they can accommodate a variety of clients and looks. Mac make up products are great for pale and matte colors for certain looks. Max factor make up boosts up the glamor element. Mineral make up is growing in popularity and gives the face a natural appeal. Bare Minerals and Afterglow are all good products.
Step 6
Market your new business to the client base you outlined in your business plan. Build a website, buy business cards and have your company listed in the yellow pages. Have pictures of your work from clients and post them for people to gauge your work. As customers to refer friends and family. You can offer incentives for customers who refer the most people. Make your customers feel like they are a part of your business. Make sure they understand how much you value their support.
Filed Under: General How To's
About the Author: Marie Mayle is a contributor to the MegaHowTo team, writer, and entrepreneur based in California USA. She holds a degree in Business Administration. She loves to write about business and finance issues and how to tackle them.
Comments (0)