By Marie Mayle on Nov 04, 2010 with Comments 0
---
People prefer to use things that can save them money. This explains why not everybody likes the idea of purchasing DVDs but instead prefer renting their movies. Aspiring video store owners should first carefully study the movie rental industry. Wide chains such as Blockbuster and Netflix will mark your top competition. Therefore, you need to research the market in your area and plan the right service options to give customers a reason to come back to your store. Understand the business, and with the right execution you can turn your movie rental store into a profitable business, especially if you set the mood by getting vintage movie props for sale and setting them up around the store.
Create a business plan. Detail your company's goals and marketing strategy, including the start-up costs. Study the competition level of video rental businesses in your area. List every video rental stores and keep in mind their services. Plan how you can provide better service, such as providing higher quality products at lower prices or a greater selection.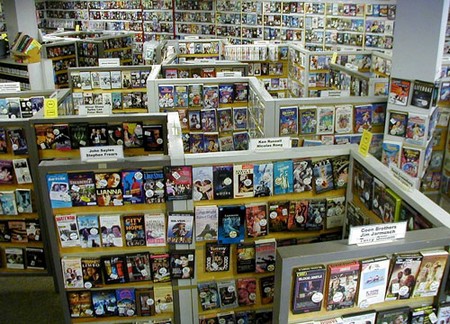 Define your target market. Instead of providing all kinds of genre of films, carry a certain genre that your target market wants. If you plan to target college students, study their most popular tastes in movies and provide them with that demand. Having a target market allows your shop to gain loyal customers.
With your target market in mind, find a desirable location with high foot traffic. Ensure you have enough space and storage for your videos and other merchandise. Purchase necessary equipment for easy tracking of inventory, as well as shelves and fixtures for displays. Research to find a movie wholesaler in the area or online that can provide you with videos for your store. Keep your inventory fresh.
Obtain the required licenses and permits. Visit with your local and state government and abide by the rules and regulations when starting a movie rental store.
Create a vision for your store. Design the interior and add the distinctive personality elements for which you want the store to be known. Purchase movie posters and list all movie titles for customers to easily find what they want. Include televisions and DVDs in the store for the customers to know the quality of the videos they will rent. Consider installing a security system as well. You may ask a security company for the best measures to keep your store safe.
Create membership agreements for customers. You must have the ability to facilitate the rentals and returns of the videos. Set rental costs and late fees and ensure you can hold customers responsible for any damages and losses of video. Create special offers for loyal members.
Offer other services aside from video rentals. If your target market includes college students, provide snacks and drinks. Purchase a mini-fridge and displayed them in the store. Secure the necessary permits for selling food products.
Promote your movie store. Plan a grand opening day and market the distinctive service you offer. Advertise in your local newspaper and other publications. Design flyers and brochures together with your contact information and a map of the store. Offer special coupons and membership deals.
Filed Under: General How To's
About the Author: Marie Mayle is a contributor to the MegaHowTo team, writer, and entrepreneur based in California USA. She holds a degree in Business Administration. She loves to write about business and finance issues and how to tackle them.
Comments (0)