By Vincent Carreno on Jun 29, 2010 with Comments 0
---
First impression of everything depends on how it looks like physically. If your car has a nice paint coating it will look more appealing. The glossiness depends on the quality of paint and coating type used. Base coating, clear coating and the acrylic enameling are the most common types being used these days. Color damage can be avoided by coating the surface of the car using base coat and then coating it with a protective layer of clear coat. This method is used be the painters to improve the shine of the surface. Application of clear coat is a very hard part of painting. On the successful clear coating you can achieve a glossy finish. You can follow the following tips and techniques to get good results:
Procedure: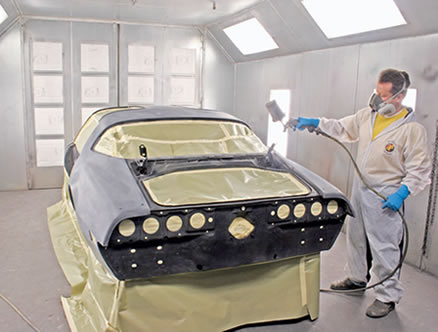 Clean the rusty surface:
Clean the rust from the surface of the vehicle using rust removing liquids. Also remove any old paint using the paint remover called as thinner. A sand paper can also be used for this purpose. Apply the sand paper on every painted area. It will scratch out the paint from the surface.
Smooth the surface of the vehicle:
Surface of your car should be smooth enough to coat paint on it. This smoothness can be achieved by using the sand paper again. Apply the sand paper again on the surface. Use separate and different sand papers for different types of surfaces. Usually a grit paper (220) is used to sand the wooden surface unlike metal surfaces where a 400 grit paper works.
Check the spray gun:
Fill the cup of the gun with the respective primer. Close it and test if the primer is being sprayed properly or not. A coating standard is that your gun should spray an area of six square inch from a distance of six inches. You can achieve this standard by tuning the nozzle of the gun. Use a primer reducer or a thinner to reduce the thickness of the coat.
Apply the base coat:
Start applying the base coat on the surface of the car now. Spray the surface from a distance of six inches in an up/down or back/forth motion. You must paint from a distance of six inch to apply a regular coat. On finishing ensure that you have applied a perfect coat without sags, drips and voids.
Drain the primer for some time:
Now softly apply sandpaper on the paint again. Each surface should be sanded with its respective sand paper as mentioned before.
Allow the coat to dry:
Allow the coat to dry. If you think you haven't achieved good results, buy the sprays at TruckElectrics.com they are high quality and the surface again.
Further Readings:
Filed Under: Cars & Vehicles
About the Author: Vincent Carreno is a cars enthusiast who loves all things about cars and the automotive technology. He is also the chief editor at a local magazine which shares new, exciting and informative articles about troubleshooting car problems.
Comments (0)