By Fred Goodson on Jul 30, 2010 with Comments 0
---
The basics are if you have never hauled a horse, don't do it yourself. You need an expert in hauling, that is a good driver, that knows how to load the horse, how to unload the horse and how to haul with that kind of weight behind you. However, if you are going to do it yourself, you will need to practice. You will also need a horse trailer. A horse trailer must be of sound build. Here are some tips to follow:
Procedure:
You will need a health certificate from the vet stating that your horse has its current vaccinations, as well as a negative Coggins test in the last 6 months. Check the state guidelines before travelling to see if there are any additional vaccinations required.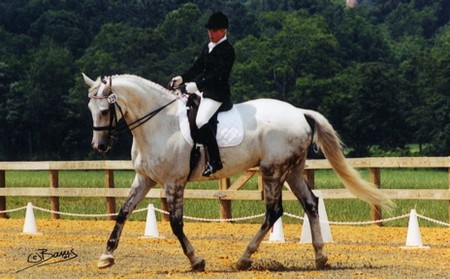 Your horse should wear a halter during the trip. Most people suggest leather halters. In case of an emergency the leather is easier to cut through. Depending on the climate you are travelling in you may or may not want to ship your horse with a blanket. Shipping boots or leg protectors can be very helpful when shipping your horse.
Your horse will need fresh hay for the trip. Keep in mind the travelling distance and the amount of food necessary for the trip. You should take breaks periodically to water your horse, always keeping the horse well hydrated. You may find it easier and more cost effective to hire a professional horse hauler.
You may want to use a protective head covering for a tall horse in case the horse rears up while in the trailer.
Horses unfamiliar with horse trailers may be afraid of entering and could potentially get hurt if the handler isn't careful. It's a good idea to practice loading your horse into the trailer ahead of time to get the horse used to walking into a small, dark place.
Have an emergency supply kit in case of accidents/emergencies while travelling.
Make sure the horse trailers are properly ventilated. After arriving at the destination give the horse a thorough physical. Check all joints, check for any scrapes or cuts, and make sure the animal isn't running a fever.
Always have a backup plan when travelling longer or multiple day trips. A second person is best to drive in a car in case of a flat tyre of un-foreseen problems, this way you can drive to e.g. Vet, Mechanical Workshop, and Shopping Centre etc
Filed Under: Pets & Animals
About the Author: Fred Goodson has a passion for pets and animals. He has 4 dogs and is planning to have another one. He is also a blogger who writes about pets and animals. Currently, he is living in New Jersey.
Comments (0)