By Roberta Southworth on Jun 11, 2010 with Comments 0
---
Your best friend or sister or even daughter might be expecting a baby. You might be planning to buy baptismal gifts but it is often tough to come up with a new idea. However, there are various baby gifts that any new mother will simply love and adore.
Pampering for the mother
A gift that a new mother will undoubtedly appreciate and love is something that will pamper the weary postpartum mother. After so many weeks of stretching the muscles for baby and all the labour pain, a gift certificate that can give her a massage, or a manicure or a makeover will seem just perfect and so exciting to the new mother. Do not forget to give a certificate of a free babysitter for a few hours as well till she takes in the delights of her pampering. This is a gift any new mother will love to have and be very grateful for.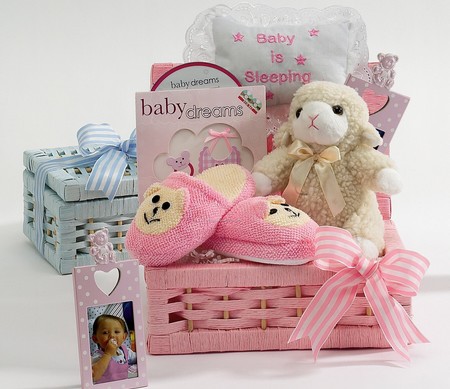 Sensible baby gifts
Whenever there are some new parents, they are bound to be slightly tight in their cash as well as time. So a gift that is useful for them is one of the best options. Diaper cakes are one very good option. These consist of many diapers of a new born baby's size shaped like a cake. These make really sweet baby gifts and can be used anytime by taking them apart. You can also go in for a baby-proof photo album and decorate it with snaps of family, friends and loved ones of the new mother and father. This is a very sensible gift as well, for this will make sure that the baby cannot tear up and destroy the photographs from the album when he grows up.
Personalized gifts for the baby
In case the baby already has a name given to him, then get the little baby something truly personalized and unique for him. Go in for a bathrobe or a hat that has the baby's name printed across. These make sweet gifts with the personalized aspect fulfilled and are also way better and sweeter than the corresponding bare parts. You also bring the baby a gift that is personalized as well as fun to keep in the baby's nursery-like a few adorned wooden letters to that can be hung over a changing table or even a photograph frame that has the baby's name printed on the top to be decorated on the dresser.
Filed Under: Family & Relationships
About the Author: Roberta Southworth is a psychiatrist by profession. She likes to help out people by writing informative tips on how people can to solve their family and relationship issues. She is currently staying in Ireland. She has 5 years of couple counseling experience.
Comments (0)