By Alan Kennon on May 24, 2010 with Comments 0
---
Everyone wants the ideal outfit for an occasion as special as New Year's Eve. And then to bid farewell to the old year and welcome the New Year should be in immense style. Now this maybe a little difficult, considering the number of parties you have to attend. When New Year's Eve comes, you may have nothing left to flaunt. But something is there for everyone that is very appealing and a perfect cut just for you.
Use these tips to choose you New Year's Eve dress:
First be clear about the type of party you will be attending. You may have many invitations to go spend the evening in many different ways. Choose the one you want to actually go to. Your dress will be in relevance to the venue. If the venue is a countdown ball, you will like to wear something that is dressy or even a formal dress. However, if you will be going to a house party, even an evening gown will appear to be overdressed.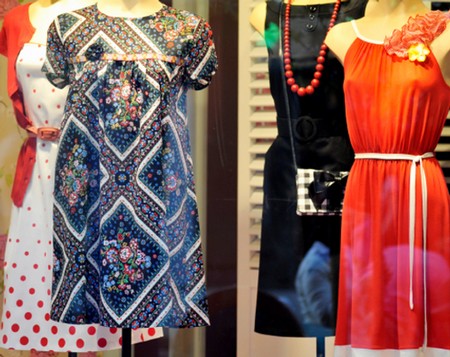 Estimate your budget. You must have already spent graciously on Christmas and your budget for a New Year's Eve dress might be slightly tight. Also add up the cost of shoes and accessories of you do not already have those. However, you may get some real good bargains. So adhere to your budget for starting the New Year in debt won't be that pleasant an idea.
Shop from the sales. After Christmas, the prices will be down. Shop then. And try places with sales.
Go in for a style that enhances your figure. If you possess the perfectly envious curves, go ahead and flaunt your body. If, like most average women, you have some flaws in your figure, choose an outfit that draws greater attention to your face or whatever be your best feature. An empire cut dress will be compatible with almost all body types. If your arms are not in a good shape, go in for a dress with sleeves.
Be willing to shine. New Year is a time to shine and sparkle with drama like the stars. Sequined dresses will make an excellent choice as long as you stick to the neutrals like black or silver.
If your style is conservative, the black dress is definitely the thing for you. This dress is never wrong and it takes off at least ten pounds. After all, this is the perfect time to look sexy.
Choose a dress that has you comfortable. Make sure to try the dress at least once before you buy it. The dress should be such that it makes you feel as much fabulous on the inside as you look on the outside. You should be able to go around comfortably and dance freely. To fidget and tug your dress the whole night will not exactly be a great way to spend a special evening.
If you are not buying something new and wearing something from your closet, select one that you have not already worn in front of the same people or one that you have not put on recently. Reusing a dress is no big deal as long as the people seeing it are new.
And don't worry. For as soon as you will find the perfect dress, you will immediately know it, for it will make you feel like it was perfectly made just for you.
Filed Under: Lifestyle & Personality
About the Author: Alan Kennon lives a very happy life with two kids and a lovely wife. He likes to share his life time experiences with others about how they can improve their lifestyle and personality.
Comments (0)