By Marie Mayle on May 04, 2010 with Comments 0
---
It's hard being a college student. You have triple workloads and a tighter budget. Not only is college academically draining, but it can sometimes be stomach starving. If you don't come from a well-off family, you know how it feels like to limit your meals not because you need to lose weight but because you need to make ends meet. If you are in college and can relate, these tips could help you save up and live a more comfortable college life.
Procedure:
If the university is using the same books as last school year, it is better to buy used books since they come at half the price or even cheaper. You can also borrow books from someone you know or shop around college bookstores and ask for what you need. Since you'll be using the books for only one semester, it isn't bad to buy second-hand books. After the school year is over you can sell the books to gain funds as well.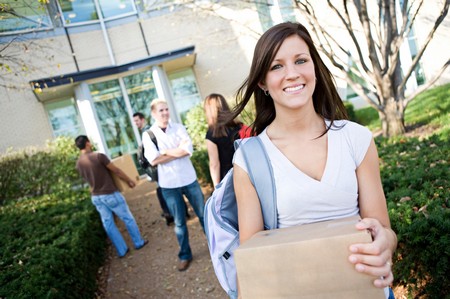 If your school allows cooking in dorms, it is better to cook your own meals than dine out if you don't have a meal plan. You will definitely save tons of money just by cooking meals instead of going out or ordering from a restaurant. Make your own coffee instead of buying expensive lattes at Starbucks. Carry bottled water with you. It might not be the most chic thing to do, but it will definitely cut back on expenses.
Do not drink, or at least set a limit on how much you are willing to spend and stick with it. College is a haven for regular drinking and parties, so set a limit and avoid spending money for expensive alcoholic beverages.
Take advantage of your student identification card. Establishments like movie theaters and restaurants regularly offer discounts to college students who present their IDs, so take advantage of these discounts.
Save money on laundry. Buy an affordable detergent and make sure to wash your clothes in full loads. If the laundry service in your dormitory is expensive, you can check off-campus laundry services.
Take advantage of the free Internet connection in your campus. You can do research right in your dorm or any part of the campus where there is wireless connectivity.
Be a bargain shopper. You can find good clothing at cheaper price at second-hand stores. If you are more of a vintage lover, shopping at thrift shops will be right for you. Remember, fashion can be cheap.
Find a part-time job. If you have the spare time, there are a lot of jobs you can available for college students. You can work at a restaurant or a café. You can work at your school as a student assistant. Many establishments and employers around college campuses offer flexible time for working students.
Filed Under: Uncategorized
About the Author: Marie Mayle is a contributor to the MegaHowTo team, writer, and entrepreneur based in California USA. She holds a degree in Business Administration. She loves to write about business and finance issues and how to tackle them.
Comments (0)