By Fred Goodson on Mar 23, 2010 with Comments 0
---
Babies of all ages will put pretty much anything they can fit in their mouths, tasting and exploring it, regardless of whether they're teething or not. Humans are born without any teeth, and their motor skills are rudimentary to say the least, so the beginning stages of this exploratory period aren't particularly intrusive. Puppies, however, are a different story. New "puppy parents" don't even see them in their totally helpless period—by the time we see them, they're in full-fledged check-this-out mode. Eight- or nine-week-old puppies can wreak more havoc in ten minutes than a human baby can do in his or her first eight months—until he or she begins to crawl. And puppies are supposed to chew; they have to figure out what the world is made of and what parts of it are edible.
This problem has nothing to do with the dog. It's the parents who have to prepare for the onslaught, or at least make quick changes after the puppy has already chewed the carpet in the family room. To prepare, take some of the advice that baby books liberally give out: Make your house puppy proof. This means confining your puppy (which you're already doing in an effort to keep his waste in one area). It also means providing many different kinds of items that he can investigate to his heart's content. You can also get yourself a nice big rolled-up newspaper with which to hit yourself when you find you forgot to move the light cord and the little guy chewed it to bits.
When babies start to teethe, they want to chew on something resilient—it apparently feels good. They really like Mom's fingers, which seem to have just the right consistency, though if they are not available, many other items will do. In fact, there's a whole industry built on suckable, chewable, comfortable items for a baby's teething process. Puppies have that same need, and the pet industry is busy filling that need as well. Experiment to find out just what your puppy wants to chew on. You don't have to go with store-bought items, though. Sometimes your puppy tells you what he wants to chew on in no uncertain terms. When our old Rottweiler, Jobear, was a puppy, he thought wood was custom-made for exercising his teeth. After he ate a portion of our redwood siding (it's supposed to be poisonous to dogs, but he didn't seem to mind), he came up with a novel solution— firewood—and we went along with his decision. If we had to leave him for more than a few minutes, we would grab a hunk of firewood out of the stack and put it in his pen with him. I worried about any possible health hazards, but all in all, it seemed better than the siding. Jobear also liked drywall—he took out a whole portion in our laundry room during a major lapse of judgment (ours, of course).
Puppies especially seem to enjoy chewing on something soft and familiar that moves—you or your other family members! Though it's not a particularly big deal when he's a tiny pup, it is a much bigger deal as he gets older and his teeth get bigger.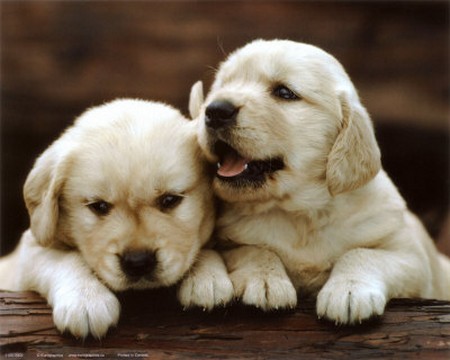 In addition to management tools like a puppy pen, a room, or a crate, a tie-down might be in order during this most trying time. A tie-down is a short (3-4 feet) rubber-coated wire leash attached to an immovable anchor. An eyebolt in the wall is the best, but you can attach it to a very heavy piece of furniture. However, if you're trying to control what your puppy chews on, you may be giving him the gift of a massive chew toy. If you decide to use a tie-down, you should get him used to the restraint in small doses—5 to 15 minutes at a time accompanied by a bone or chewy
Filed Under: Pets & Animals
About the Author: Fred Goodson has a passion for pets and animals. He has 4 dogs and is planning to have another one. He is also a blogger who writes about pets and animals. Currently, he is living in New Jersey.
Comments (0)