By Justin Belden on Oct 23, 2010 with Comments 0
---
When you use flash to take a picture of people and animals in a dark environment, your subjects can end up with red eyes. This effect is quite common, and you have probably seen such images before. In this article, you will learn to use the Red Eye Brush Tool to remove red eyes.
Select [File]-[Open] from the menu bar. The Open dialog box appears.
Open the image. Note that the subject must have red eyes.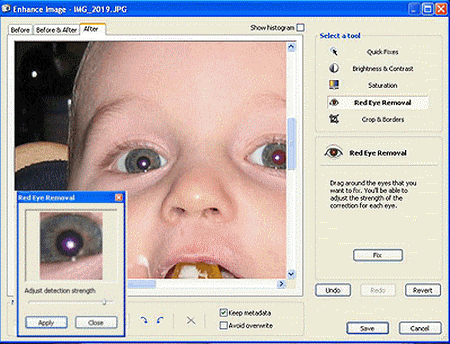 Press [Ctrl] + [Spacebar] and click the image window to maximize the win¬dow to 150%. This step is optional but highly recommended as you will need a magnified view to work on an area as small as the pupil of the eye.
Select the Red Eye Brush Tool from the toolbox. In the options bar, set Brush to Soft Round, Size to 9 pixels, Sampling to First Click, and Tolerance to 100%.
Click and drag the Red Brush Tool over the red spots until they turn dark gray.
Next, we need to add reflections to the pupils to make the eyes look more realistic. First, select the Brush Tool from the toolbox. Set Brush to Soft Round, Size to 5 pixels, Mode to Normal, and Opacity to 100%. If the foreground color is not already set to white, click the Default Foreground and Background Colors icon to set the foreground color to black and the background color to white, and then click the Switch Foreground and Background Colors icon to swap the colors
Click on the pupils to add reflections.
Filed Under: Computers & Technology
About the Author: Justin Belden is a freelance web & graphic designer with over 15 years' experience. He is also an Avid member of the Design/Development community and a Serial Blogger who loves to help people by sharing interesting and informative tips and trick related to computer and technology.
Comments (0)