By Jason Prickett on May 24, 2010 with Comments 0
---
Removing blood stains can be a very tough job. Even more so if the stain is already set in the fabric. The old adage goes, "prevention is better than a cure."  The aim is to remove the stain well before it gets the chance to set into any garment. It's far easier to remove a blood stain before it sets than to remove it after it has taken time to congeal.
Determine if this treatment is appropriate for your garment. Do this by looking inside the tag or label. Find out what material the garment is made from. Linen, Silk or Wool clothing are not materials you can try this treatment on. These are dry clean only fabrics. DO NOT attempt to use these steps to treat stains on any garment made from these materials. Using water on these sensitive fabrics will damage them. The water will cause water marks that can be problematic to remove by themselves.  This treatment should be avoided with all dry clean only blends and garments. Making an attempt at treating these garments yourself can damage your items permanently. These fabrics may or may not be pre treated or color fast. So, tampering with these garments can result in color bleeding, water spots, detergent stains or sever shrinkage. Instead, invest in linen service to guarantee that your garments are treated properly for.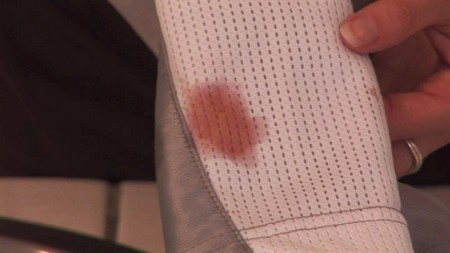 Step 1
Blot the blood stain immediately before it sets. Find a dry paper towel. Blot all the excess blood off of the garment using the paper towel. Lot gently so you do not grind the stain into the fibers of the garment.
Step 2
In a small container combine 1 teaspoon full of a mild laundry detergent or stain pre-treating solution. If you don't have either on hand, you can substitute either one of these with a dish washing detergent like Joy or Dawn. And 1 cup of hydrogen Peroxide. Take a clean sponge and soak the mixture in the detergent solution. Wring the sponge out. Then apply the solution directly to the stain. Gently blot.
Step 3
Adhere to any special washing direction on the inside label of the garment.
Step 4
If the garment is machine washable, launder the garment in cold water. Make sure your machine cycles are all set to cold water wash. Hang or lay the garment flat to air dry.
Step 5
If the material is delicate I recommend hand washing. Use Woolite or any other mild detergent. Wash. Rinse well and air dry.
Do not use a clothes dryer to dry a garment that you've treated. The heat makes the blood set into the fabric of the garment. This makes it difficult to completely remove the stain in case you need to re treat the clothing for a second time.
Filed Under: Home & Maintenance
About the Author: Jason Prickett loves to write about home maintenance and stuff you can do yourself instead of hiring any professional. His step by step guides will assist you in completing your home maintenance tasks.
Comments (0)