By Andrew Reinert on May 04, 2010 with Comments 0
---
Marks that are caused by acne are difficult to fade. If you prick your acne it is more likely to cause scarring. To avoid the formation of these scars, you must avoid pricking them. If you have acne scars it can take time to completely fade them. But with proper Acne Scar Treatment and if treated diligently, faster results can be achieved. If you have a keloid due to your acne scars, you can apply a keloid treatment cream for it can help get your skin back to normal. 
Here are some instructions to help you remove and improve the appearance of acne scars.
Procedure:
Put on sunscreen every day. The sun can cause harmful damage to your skin since the rays can darken your pimple scars and make them more noticeable. The sun can also slow down the process of repair that your skin undergoes, which makes it even more difficult to fade your scars. Use a sunscreen that is broad in spectrum to protect your skin daily.
Apply scar treatment creams on your scars. These can be over-the-counter creams that will help you fade your acne scars. In general you need to apply these creams twice every day for eight to 12 weeks. By then you should be able to see some improvement.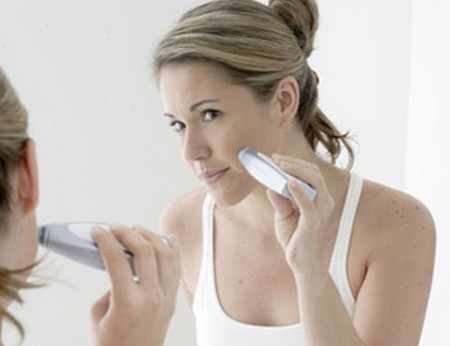 Use bleaching or lightening cream on your scars. Since your scars are darker in shade than the surrounding skin, you can use skin bleaching or skin lightening treatments to apply to the dark spot. This will help lighten the scar and blend in with your natural complexion. These creams are usually available in drugstores and cosmetic boutiques.
Ask your dermatologist about laser treatments. In this process a laser is used to fade your acne scarring. This laser targets uneven pigmentation of the skin, which will help even out your complexion. Usually it will require several treatments to completely fade your scars to bring about more evenly toned skin. You can also ask your dermatologist about Microneedling RF for acne scars. This procedure can help to build collagen, tone and tighten the skin and minimize signs of aging.
Get chemical peels. These peels are available in varying strengths. This process includes burning the top layer of your skin. Within a few days your skin will eventually heal and your acne marks will be less visible. You will get skin that is smooth, glowing and less damaged. As with laser treatments, repeated sessions are required to achieve best results.
Get dermal fillers. For pitted acne marks you have the option of having dermal fillers injected in them like collagen. This process will plump the pitted spot, making your skin smoother and the scars less noticeable. This filler will remain for a few only months, so you will need to get injections regularly to maintain the smoothness of your skin. To learn more about dermal fillers and their benefits, you can check out https://www.cosmeticcourses.co.uk/dermal-filler-training/.
Massage the spot where you have scars. Massages will break down scar tissue, which will help in blending out your scar. It also increases blood circulation so the nutrients move easily to help in speeding the healing process.
Tips and Warnings
Make sure to drink a lot of water. Being hydrated is important to help flush out toxins and also for proper skin healing.
Never prick your acne. This will result in acne scarring that you are trying to avoid.
Filed Under: Health & Personal Care
About the Author: Andrew Reinert is a health care professional who loves to share different tips on health and personal care. He is a regular contributor to MegaHowTo and lives in Canada.
Comments (0)