By Jason Prickett on Apr 24, 2010 with Comments 0
---
Make the best use of your cupboard space. Use cupboards between knee height and eye-level for items that you use most often. Store items you use infrequently, such as an ice cream maker, above and below this line. Herb and spice jars arranged at eye-level, and cleaning materials in the cupboard under the sink, both work well.
Try to keep items close to where they're needed. The cupboard under the sink is ideal for cleaning equipment, for instance, but make sure you install childproof locks if you have small children.
Store as much as you can inside cupboards. Unless you have a good deal of room, items such as coffee jars and mugs should be kept on hooks or in cupboards so that you keep your worktops clear.
Keep boxes of things you seldom use, such as birthday candles and cake containers on top of high kitchen cupboards.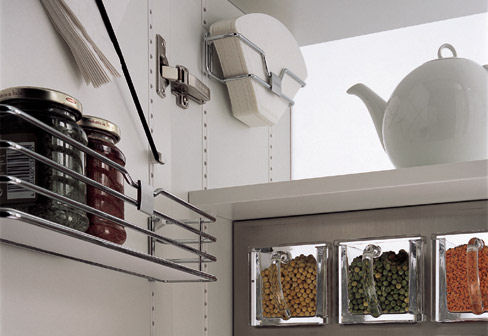 Install hooks and racks on the insides of cupboard doors. On a tall larder door, you might hang aprons, pans, and brushes, and other fairly flat, unbreakable items. Shallow plastic or metal racks hold objects in place as the door opens, and so are ideal for more fragile items.
Choose multi purpose small appliances such as a food processor, rather than a mixer and a blender, to free cupboard space.
Utilize corner cupboards by adding revolving storage racks.
Moving the freezer to a utility room or garage is better than working in a cramped kitchen.
In particularly small kitchens, you may need to store some items in other rooms. For instance, wine glasses might go into a living room cupboard, ready for party drinks.
It's unlikely that you'll be able to move appliances, but simply re-hanging a refrigerator door from the other side can improve congestion. This is a simple job: refer to the manufacturer's care leaflet.
You can buy new cupboard doors from kitchen companies, at a fraction of the cost of new units. You can only do this if the rest of the cupboard is in good condition. Removing old doors and installing new ones will take a weekend.
Spend half a day painting shabby wooden door fronts. White or pastel shades will make the kitchen appear larger.
It's an easy task to replace your cupboard door handles. It will take about two hours in a small kitchen and is a simple way to update your cupboards.
Filed Under: Home & Maintenance
About the Author: Jason Prickett loves to write about home maintenance and stuff you can do yourself instead of hiring any professional. His step by step guides will assist you in completing your home maintenance tasks.
Comments (0)