By Jason Prickett on Mar 23, 2010 with Comments 0
---
Few things are more infuriating than a kitchen that is not working properly. There may be too few work surfaces, too little light where it is needed, nooks and crannies that are constant dirt-traps, or not enough storage space. Or you could be having to walk too far from the cooker to the sink with heavy pots and pans of boiling water.
The kitchen is an expensive and com­plex room to redesign, so you must consult kitchen remodeling professionals or a home remodeling company to help you make the right decisions. Each kit­chen has its own problems and what will suit one family may not necessarily suit another – or fit in the room available.
You should first decide what is wrong with your present arrangement and what you want from a new kitchen. Is it simply a room to cook in or will you also be eating and entertaining in it? Will it have to double as laundry room, larder, nursery and study as well? Have you got all the appliances you need or will you be buying more in the future? If so, they all need to be stored somewhere. Ask yourself as many questions as you need to determine exactly what kind of kit­chen you would like, how it will work and what you will want to put in it before having you full kitchen remodel.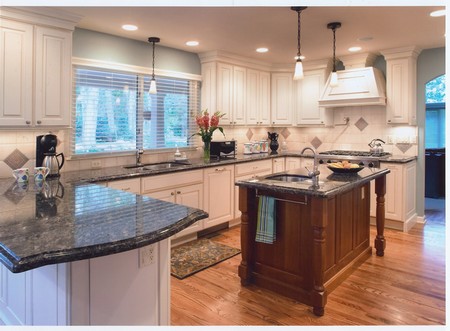 Choosing your atmosphere
Do you want a old-fashioned, country-fied kitchen with a cosy atmosphere reminiscent of pickling vegetables and making jam? Or do you want a rather more stark, clinical, high-tech kitchen which will be easier to look after, and possibly even to cook in, but may be less conducive to relaxed eating? There are any number of styles to choose from, ranging from fitted wooden country-style units to free-standing space-age formica cupboards.
Whatever solution you opt for, your kitchen should be a light and cheerful place to be – after all you will be spend­ing quite a bit of time in it. But remem­ber that, irrespective of your environ­ment, your kitchen layout is of vital importance in saving you much time and energy.
Ideal work surfaces
A single-level work surface is easier to install and keep clean but ideally each task needs a different height of surface to avoid backache and to make tasks easier to perform. Chopping food, for example, should all be done at a lower level than rolling pastry.
The easiest height to determine is that of the sink. Simply stand up and stretch out your forearms in a straight line. The bottom of the sink should be the height the tips of your fingers reach, with the draining board a few inches higher. Work out the rest of the work­tops from this height. Always leave a recessed space under your units for your toes.
Filed Under: Home & Maintenance
About the Author: Jason Prickett loves to write about home maintenance and stuff you can do yourself instead of hiring any professional. His step by step guides will assist you in completing your home maintenance tasks.
Comments (0)