By Arthur Kunkle on Feb 23, 2010 with Comments 0
---
Because balconies extend beyond the protection of their main buildings and can be at any height, especially in the case of high-rise blocks, one of their worst drawbacks is being prone to exposure from the most severe weather conditions. High up, a biting wind is the worst enemy to balconies, not just because it causes damage but also because of the chill and dust that come with it. The unrelieved effects of strong sunshine and winter weather can be equally damaging.
Screening out the weather
In countries where the summers are hot, even a first storey balcony can suffer terribly from the bleaching and weather­ing results of the sun. An unshaded sun-trap is not quite the asset it may at first seem when it is simply too hot to sit outside comfortably and all the plants quickly shrivel up and die. There is also the terrible blistering and destruction of the actual fabric of the balcony and its features to be considered. Some form of protection is essential in almost all cases if the balcony is to be comfortable to use and the plants and features are to survive.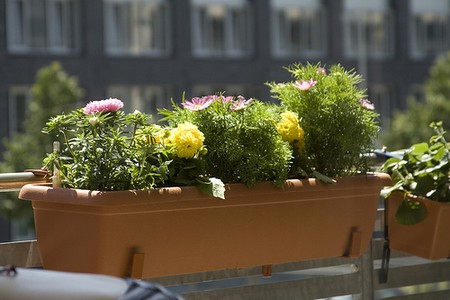 Screening should be erected where appropriate to protect the area from scorching sunshine and also from prevailing winds. Broken screening is more effective than the solid variety: its natural flexibility enables it to stand up much better to storm-force gales, while dappled shade is far more attractive than dense gloom even when the weather is unbearably hot.
Overhead shelter
Some form of overhead shelter is frequently necessary, and it may be worth considering a permanent roof structure in cold or wet climates if one is not already incorporated since to anything less would be unable to bear the weight of regular snowfalls. A fabric awning,  overhead trellis or pergola threaded with plants, temporary sheeting or bamboo mat­ting, or even a large continental-style umbrella, are all good sun screens and suit most tastes and styles.
Decorative ideas
Some forms of screening are more decorative than others as well as the wonderful variety of climbing plants that can be used to clothe them, rather in the way that curtains enhance a window in an interior scheme. More basic, practical forms of screening may be made from timber, perspex or metal mesh, bamboo, rustic poles or plastic-coated wire. You can even use stretched canvas or other sun­proof fabrics as a seasonal screen. In the right position they can serve their purpose well and the most basic forms may be already fitted when you take possession of your balcony. If they are not decorative enough for your taste, they can always be dressed up slightly or even transformed, using paint, timber stains or climbing plants. If you are using perspex, however, it will accept none of these treatments although its transparent nature is an advantage if you want protection without losing your view. The alternative is to erect a secondary, more decorative screen in front of the practical, less attractive version; this is a useful option if you are not permitted to make any permanent structural alterations on the balcony.
Providing privacy
On many balconies, screening serves another, almost equally important practical purpose – that of providing privacy. The balcony is naturally a private place: it is part of your home, reached only through one of your rooms, and generally strongly reflects your personal taste and lifestyle. It is a place for escape and relaxation. Railings or a low parapet are usually adequate at the front, especially if the balcony is high up, since you are unlikely to be viewed from ground level.
The shared balcony is a different matter – the type where a continuous structure provides facilities for a whole row of apartments. In this case some substantial form of side screening is necessary. You may also have to screen the area from above to avoid a neighbour's prying gaze or friendly interference. Any of the more substantial decorative screening ideas would be adequate, particularly when clothed in climbing plants, which are one of the best screening devices of all. Remember, though, that if you want to maintain your privacy right through the seasons, you should choose evergreen species for your climbers.
Filed Under: Uncategorized
About the Author: Greenery always attracts Arthur Kunkle. He has a big garden where he plants many fruits and vegetables. His passion for gardening motivates him to write and share different tips on gardening.
Comments (0)