By Jason Prickett on Mar 24, 2010 with Comments 0
---
First you need to know  If someone was clumsy on a perfectly safe set of stairs, then you cannot hold the property owner liable for your injuries. However, if there was a hazardous stair condition that caused the fall and your injuries, you should talk with an injury attorney about your options.
Planning ahead
Never forget that your hall and stairs are important as fire escape routes and should be kept clear at all times. If possible, bicycles, prams and push­chairs should not be stored in the hall and all hall furniture should be small enough for you to be able to get past it easily. Fix the hall telephone to the wall to keep it out of both your and your child's way.
Steps and stairs
Lighting should be bright and evenly distributed, with no gloomy spots or shadows. Keep a light on at night if elderly people or young children will be using the stairs. To make life easier, install two-way light switches.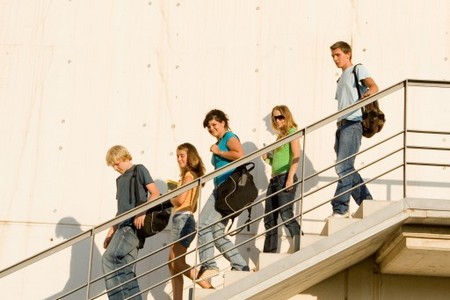 If your steps are steep, make sure your handrail is secure and at the cor­rect height for everyone using the stairs. Do not use rope handrails. If someone has difficulty climbing the stairs, fix an extra handrail to the wall.
Lay the stair carpet so that it reaches well beyond the top step covering each landing and make sure it is tightly fitting and well fixed. Mend any loose, torn or frayed stair carpet and tighten stair rods as soon as they become loose. If lino is broken or floor tiles are lifting, they should be mended or replaced immedi­ately as well.
If your steps, landings or corridor floors are polished, use non-slip polish on them and never place a loose rug at the bottom of the stairs as it can easily slip. If any hall rugs are worn or frayed, mend them. The doormat too can be a danger hazard. Recess it into the floor so it cannot slide or be tripped over.
Heaters
Any oil heaters in the hall should be securely fixed in a safe position and regularly serviced. Never carry a heater while it is lit or you could set fire to yourself.
Safety gates
If your child is an early walker, safety gates at both the top and the bottom of your stairs can save a few tumbles, but if your child is a late walker you should try and make do without them. It is much safer to teach a child how to climb up and down stairs as soon as he is able to. Always supervise a small child on the stairs even if he seems quite capable of climbing them himself. Keep safety gates closed at night to stop your child exploring while you are asleep.
Filed Under: Home & Maintenance
About the Author: Jason Prickett loves to write about home maintenance and stuff you can do yourself instead of hiring any professional. His step by step guides will assist you in completing your home maintenance tasks.
Comments (0)