By Alan Kennon on Oct 19, 2010 with Comments 0
---
A sous chef serves, essentially, as an assistant to an executive chef. He works and performs tasks under the supervision of a manager or someone in a higher position. He does menu planning, ordering food and other supplies for an eating establishment, and assists in preparing food with the executive chef. Most hotels and large restaurants have several sous chefs; each takes on a specific task or area of the kitchen. To become a sous chef, you generally must have advanced coursework and hold a degree in the culinary arts.
Acquire a job in a restaurant or other food establishment as a cook. It might start as a low-level position until you gain more knowledge and skills as you train yourself in cooking and culinary school. What matters most is you become more effective and expert in your craft.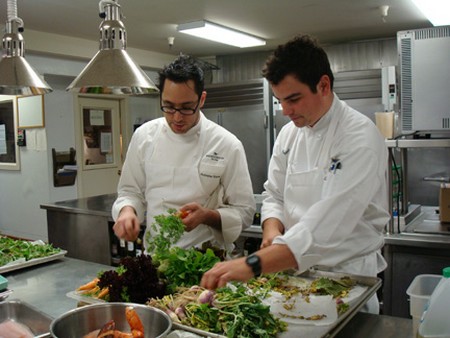 Obtain the best education and training you can to have more opportunities in gaining a position as a sous chef. Look for a culinary institute or college with a culinary program and a very lofty job placement rate where you can start with after graduation.
Train and become proficient in your cooking skills, mastering the common cooking techniques for sauces, meats, vegetable dishes and desserts. You might get the opportunity to prepare a variety of dishes in a small restaurant. It will also serve as a good training ground for you if you take work in larger restaurants that employ more chefs and line cooks.
A study of nutrition will help you develop your resourcefulness in creating mouth-watering dishes for health-conscious people. Widen your variation for vegan, kosher or low-sodium dishes for those who have dietary limitations.
Know how to adjust your work schedule. Your executive chef will appreciate it if you can work any time of the day or any day of the week—especially on or during holidays.
Financial, accounting or business courses can offer a great advantage. As a sous chef, your tasks might include planning and budgeting menus and ingredients. Therefore, knowing some numbers when it comes to planning and preparation will serve you well.
Show your passion and devotion in what you do by creating new, fresh ideas. Conduct some tests on how to improve your dishes or main courses; you can also try to create new flavor combination for desserts. This will show really think and want to find ways to make every menu special. Your dedication and love for cooking will manifest in the food you serve and how you present it.
Respect your kitchen staff. They work as part of your team, and without them you won't achieve your mission to provide excellent service and dishes that people will enjoy. More often, people behind the scenes work the hardest, but their work goes neglected.
Filed Under: Work & Careers
About the Author: Alan Kennon lives a very happy life with two kids and a lovely wife. He likes to share his life time experiences with others about how they can improve their lifestyle and personality.
Comments (0)