By Andrew Reinert on Feb 19, 2010 with Comments 0
---
Some women, when they realize they are pregnant, wait a few months to begin prenatal obstetrical care. Diabetics should not do that. You must make an appointment with your obstetrician-gynecologist the minute you have confirmed your pregnancy (or as soon as you have missed your second menstrual period), and immediately tell the doctor that you are a diabetic, so that you will be given the right pregnancy care and treatment. If the physician is not experienced in high-risk pregnancy, ask for a referral to someone who is. Don't be afraid of hurting your OBG's feelings. This is your health and that of your baby. You must do everything you can to take care of yourselves.
Women who live in a major metropolitan area may wish to be cared for during their pregnancy by a specialized team of experts, consisting of an endocrinologist, an ophthalmologist, a perinatolo­gist (high-risk pregnancy specialist), a dietician, and a neonatolo-gist (specialist in newborn infants). If you live far from such a center, you need to make certain that your primary care physician or endocrinologist is in frequent contact with your obstetrician about combining your two health issues: diabetes and pregnancy.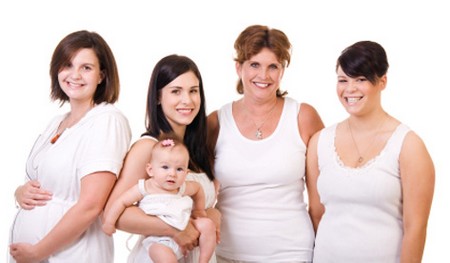 For the most part, your obstetrical care will be like that of nondiabetic women. There are, however, a few additions and dif­ferences: The first trimester, when you need weekly visits to the doctor, is the most critical to the health and development of the fe­tus; it is especially important to keep your diabetes in tight control during this time to prevent birth defects and intrauterine damage. You also need to reevaluate your diet with the guidance of a nu­tritionist who may suggest that you take vitamin and iron supple­ments. Your weight, blood pressure, and eyes should be checked frequently. If you suffer from morning sickness, your insulin dose may need to be adjusted to compensate for the food that you can't manage to keep down.
During the second trimester, you should keep up your weekly visits to the obstetrician. Often, diabetes stabilizes now, al­though you may have to increase your insulin. It becomes even more important during the middle trimester to monitor your blood pressure (it would be a good idea to buy a home blood pressure monitor and keep track of it yourself), fluid retention, kidney function, and hemoglobin (the component of red blood cells that carries oxygen to tissues).
Weekly visits to your physician are especially important dur­ing the third trimester. Even though your diabetes may be stable, especially if you've been conscientious about sticking to your food regimen, you may need more insulin. If your blood pressure were to rise suddenly, the third trimester is when it usually happens, and this is also the danger period for kidney problems and fluid retention.
In addition to fetal health checkups that all women receive (alfa-fetoprotein, ultrasound, nonstress test, oxytocin challenge test, and amniocentesis), there are special things that diabetic women need to monitor closely throughout pregnancy:
Urine. Urine must be checked for ketones and the presence of bacteria, which could indicate a urinary tract infection.
Blood pressure. This could prevent a condition called pre­eclampsia, common in diabetics during pregnancy and in the presence of gestational diabetes. Preeclampsia usually appears in the late stages of pregnancy and is characterized by high blood pressure and swelling of the feet and ankles. It can lead to a much more serious condition called eclampsia, which can cause seizures and harm to the fetus.
Blood glucose. This should be done four times a day by self-monitoring and by regular professional blood testing.
Ketones. You should monitor your ketone level every day by testing your urine.
Glucose control. The most important thing for all diabetics, it is especially essential that pregnant women with diabetes main­tain tight glucose control.
Filed Under: Health & Personal Care
About the Author: Andrew Reinert is a health care professional who loves to share different tips on health and personal care. He is a regular contributor to MegaHowTo and lives in Canada.
Comments (0)