By Fred Goodson on Mar 19, 2010 with Comments 0
---
Whether you are having lessons purely to learn to improve your riding technique or you want to excel in a certain discipline, it is always best to be well prepared for lessons in order to get the most out of your time and money.
Lessons at a riding school
• Be on time.
• Check which horse you are riding.
• If you are allowed to tack up, leave plenty of time to do this properly and safely.
• If you are borrowing a hat from your riding school, make sure you get the right size and adjust the chin strap accordingly.
When you first get on your horse, ensure that the stirrups are at the correct length and check the girth is adequately tightened.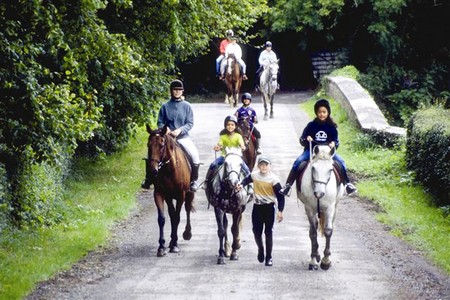 Lessons with your own instructor
If you have lessons with an instructor, they may need you to travel to them for the lesson. If you have your own facilities, the following suggestions will ensure that you get the most from your lesson:
Travel tacked up to save time on arrival.
If you are traveling a long distance, ensure your vehicle has enough fuel for the journey.
When you arrive and unload your horse, let your trainer know you have arrived.
Allow yourself up to 10 minutes before your lesson starts to go through your usual warmup routine on the arena. This way both you and your horse are sufficiently ready for the physical demands of the lesson.
Before you start your lesson, check the girth.
If you intend to jump, make sure you have the horse's boots and your back protector on hand.
Make sure that you practice the work from your lesson before your next session with your instructor. This will help your skills become established and your instructor will be able to help your riding develop more each lesson.
Unless you have a special arrangement, instructors should be paid at the end of each lesson, so be sure to have the right amount of money with you.
Filed Under: Arts & Entertainment
About the Author: Fred Goodson has a passion for pets and animals. He has 4 dogs and is planning to have another one. He is also a blogger who writes about pets and animals. Currently, he is living in New Jersey.
Comments (0)