By Roberta Southworth on Mar 20, 2010 with Comments 0
---
Your child needs to know that he or she is not only important to you but important to God as well. Let your child know he or she has value for all eternity!
At an early age children can grasp the concept of a God who will listen to them at all times. What a comfort that knowledge is to a child who has a parent who trav­els a great deal, often works late, or may not be around owing to divorce, separation, or death.
There's no substitute for saying to your child, and saying it often, "God loves you. I do, too."
One father I know tells his son regularly, "God cre­ated you. And God doesn't make junk."
One mother I know sings her favorite song to her children at least once a week—not because she sched­ules it, but because she loves the song and is quick to share it: "His eye is on the sparrow, and I know He watches you." It's no wonder that her children know all the verses to that hymn and are sometimes overheard singing them quietly to themselves!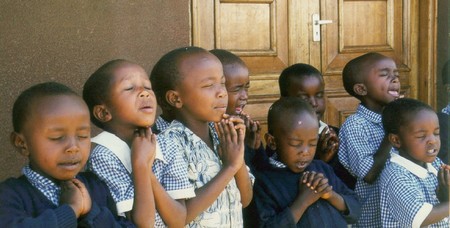 Perhaps the most encouraging way to convey to chil­dren that they are important to God is to pray regularly with them, and for them. You can teach them how to recite the rosary as well as how to use the rosary beads.
What a comfort for a child to be pulled up on the lap of a mother and held close as she prays:
"Heavenly Father, I'm so grateful that You created Liz and sent her to be a part of our family. I'm so grateful that You gave her a quick smile, a big dose of creativity, and lots of energy and health. I know how much You love her and that You only want good things for her. Help me to be a good mother to Liz. Help Liz to grow up to be a woman who loves You all the days of her life."
What a self-esteem boost for a little boy to have his father kneel by his bed and pray:
"Heavenly Father, thank You for giving us Kurt. Help me to be a good father to him. Help him to grow up strong and healthy. Help him always to be willing to do his best and give his best."
Assure your child that you believe God hears and answers prayers. Assure your child that God's answers are always based on love for your child.
A child who grows up believing she or he is impor­tant to God—and valued and loved by Him—is a child who isn't afraid of the future. He's got an eternal ally on his side. She's got a sense of worth that transcends the present. He's confident that no matter what he faces, a higher authority and a greater power than even Mom or Dad is on his side.
Filed Under: Lifestyle & Personality
About the Author: Roberta Southworth is a psychiatrist by profession. She likes to help out people by writing informative tips on how people can to solve their family and relationship issues. She is currently staying in Ireland. She has 5 years of couple counseling experience.
Comments (0)