By Roberta Southworth on Mar 19, 2010 with Comments 0
---
When was the last time you and your child had a special day together? Just the two of you? Not just five minutes together before bedtime but an entire day, or at minimum, an entire afternoon or eve­ning. Not a time spent doing something routine but a time of doing something special.
Four times a year—or at least once every six months —make a "date" with your child. Plan a day, afternoon, or entire evening together. It may be a time devoted to making something, going someplace, or playing games together. Let your child help plan the event.
Craig takes Jeff to baseball games in Los Angeles, 120 miles from their home. It takes most of a morning to get to the park, stopping on the way for waffles with whipped cream and fruit. It takes all evening to get home, by way of rush-hour traffic and Burger King. Along the way, there's plenty of time for talk, or no talk. It doesn't matter, either, if the Dodgers win or lose. Craig and Jeff are together doing something they both enjoy.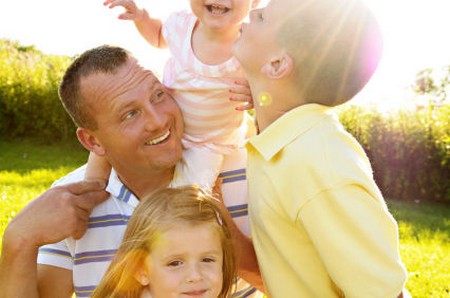 Lynn takes Amy to a lookout cafe on sunny winter afternoons to play monopoly. The tourist season is over so there's rarely anyone there. They order pizza and then spend all afternoon playing monopoly in the corner booth overlooking the valley. Amy loves to play monopoly. She also loves the hot fudge sundae that comes at the end of the game (no matter who wins). Lynn leaves a generous tip. "I'm paying more for rent than service," she says. It's an afternoon for talk, laughs, fun, and memories.
Both Craig and Lynn unwittingly but wisely follow the three main rules for planning a date with your child:
Choose an activity your child enjoys.
Choose a special activity that isn't an everyday event.
Make a time for just the two of you to be together.
Special times like these say to a child, "I like you. In fact, I like being with you so much that I'm willing to take a whole day just for you."
For several years, Janice took one day of vacation from work each summer just so she and her daughter could go to the park or museum together. "I'd reach the point where I was homesick for time with my child," says Janice. "I wanted to be with Kimberly so much I knew I wouldn't be able to concentrate at work. I called it our 'goof-off' day."
What is one of Kim',6 favorite memories of her child­hood? Goof-off days with Mom!
Filed Under: Family & Relationships
About the Author: Roberta Southworth is a psychiatrist by profession. She likes to help out people by writing informative tips on how people can to solve their family and relationship issues. She is currently staying in Ireland. She has 5 years of couple counseling experience.
Comments (0)