By Leona Kesler on Apr 12, 2018 with Comments 0
---
Seafood
While with seafood it's broadly true that if you order anything chilled and white you won't be too far off the mark, there are some matches that are indisputably better than others. After all, there's a world of difference between the delicate flavors of, say, lemon sole and meaty fish like tuna. If you are interested to visit San Francisco, there are lots of seafood restaurants around just like these pier 39 restaurants.  You may also visit the ones at https://crabhouse39.com/.
Langoustines, prawns and the like work really well with very delicate, fresh whites like Muscadet. For simple fish dishes (without strong sauces), you'll never be far wrong with a Sauvignon Blanc, particularly if you shell out a bit extra and get one from Sancerre in France. Fresh and steely, it's a classic match with the likes of sole.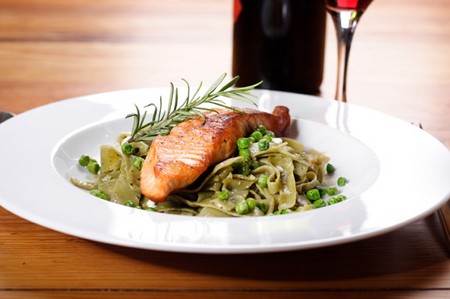 For meatier fish like halibut and sea bass you need a bigger wine, and, while you can still get away with a good Sauvignon Blanc, a lightly oaked (or unoaked) Chardonnay, like a Chablis, will carry the day nine times out of ten.
For seriously meaty fish like tuna and shark, you want biggish (lightly or unoaked) Chardonnays from countries like Australia or South Africa or even light reds like Pinot Noir, Beaujolais or Cabernet Franc.
If you're having simple langoustines as a starter, why not accompany them with a chilled glass of fino sherry? Elegant, classical – and very Spanish!
If you have to pick one 'bale-out' wine to go with a variety of different dishes, Chablis is probably your best bet. It's fresh, but with reasonable body.
Fusion food
This is some of the toughest food to get a good wine match with. For starters, it's non-traditional, so there are no tried-and-tested classic matches; and its tendency to throw unusual tastes together can make it hard to predict flavours just by looking at the menu.
The good news is that, since most fusion restaurants tend to be fairly serious establishments, they usually have a proper wine waiter — so don't be shy about asking him or her for advice.
Although you can usually come up with something reasonable by a process of elimination, for me, the key is not to get too hung up on the search for perfection.
Fusion food is fun and you need to buy into that spirit of adventure. Be like the chef and try stuff out. Think laterally, throw out the rule book — and enjoy yourself)
Adventurer's tip
A fair few fusion dishes mix big flavours to make an even bigger combination. This can be too much for most wine styles, but sherry (yes, sherry) can work really well for these power-plates if you get the right style. Try manzanilla or fino with fish, amontillado with game and oloroso with red meat.
Filed Under: Food & Cooking
About the Author: Leona Kesler is a head-chef at a very popular food restaurant in New York. Also she is a blogger who shares her experiences, tips, and other informative details about food and cooking. Her recipes are featured on many magazines.
Comments (0)