By Leona Kesler on Apr 12, 2010 with Comments 0
---
Friday night is the waiting room on the journey to the weekend. What you want is a wine that is in tune with your euphoria at having two whole days off, and isn't going to look at you reproachfully if you slug it back without really concentrating. All of this means simple and pleasurable rather than complex. Big, cheerful flavours are in, elegance and restraint are out.
Most wines like this come from countries with lots of sun. Australia, California and Chile are great at making these luscious, up-front wines, jammed with fruit, and they do it, moreover, at good prices. Since the wine is to be drunk mostly on its own, we're looking for wines that don't have tons and tons of 'structure' — which means soft tannins for red wines and low acidity for whites. Tannin and acidity might be essential when matching with food, but can get in the way when you're just looking for a simple glass of glug.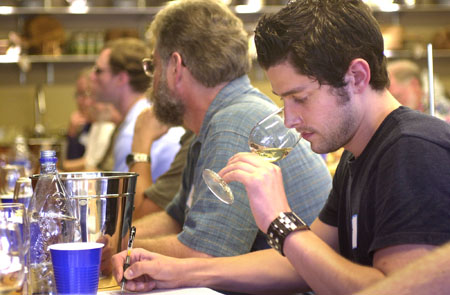 So for whites 1 would rule out high-acid varieties such as Sauvignon Blanc or Riesling. Instead, keep your eyes peeled for an Aussie or Californian Chardonnay or a South African Chenin Blanc, all of which will be as comforting and generous as your sofa's cushions.
For reds I'd steer clear of Cabernet Sauvignon, unless you have a particular favourite. 'Cab' is a great grape, but it can have quite strong tannins, which aren't what you want when you're drinking a wine on its own. Go for naturally softer varieties like Shiraz/Syrah or Merlot.
Australia, again, is great for the former, but California, South Africa and Chile are all doing great Syrah, too. For juicy Merlot, California is your safest bet. If you want something a little bit different, Argentina does some great swigging Malbec. If you simply have to have a Cabernet, go for Chile, which makes the softest, most approachable examples in the world.
Take note to oak
When it comes to choosing your whites, be wary of how much oak the wine has. Big, creamy examples with lots of toasty, vanilla oak flavours may be initially exciting, but drinking more than one glass can be an effort unless you are very determined.
Filed Under: Food & Cooking
About the Author: Leona Kesler is a head-chef at a very popular food restaurant in New York. Also she is a blogger who shares her experiences, tips, and other informative details about food and cooking. Her recipes are featured on many magazines.
Comments (0)