By Leona Kesler on Apr 12, 2010 with Comments 0
---
There are different levels of dinner party — from the relatively informal 'friends round' to the full-on five-star bash that takes weeks to plan and days to prepare. The way you approach your wine depends on how special the occasion is.
What is true, though, is that these are occasions when going the extra few yards, not just in the level of the wines you serve, but also in the variety of bottles on offer, makes a big difference.
First, the groundwork — getting the quantity right. Each bottle holds six glasses of wine. So if there are four of you, assume that you'll need one bottle for the starter and two bottles for the main course. Next, are you having sparkling wine to start? Dessert wine? Port? If so, the first two will need chilling, while the latter may need decanting.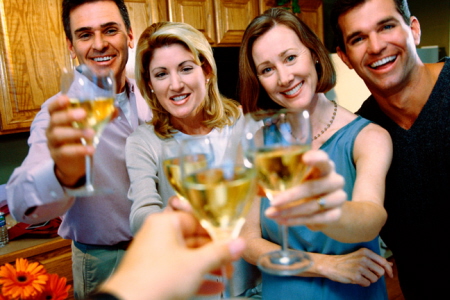 When it comes to the level of wines served, this too depends on the occasion. I wouldn't ever go below the Sunday lunch level. And if it's a long-lost cousin visiting from Australia, you'll need to show it's a big deal with at least one really good bottle.
The good news (for your budget at least) is that if you're serving two bottles of wine with the main course, they don t both have to be superstars. In fact, having one great wine and one good one can make for an interesting exercise in compare and contrast'!
For sheer class, it's hard to beat the great areas of Europe: Bordeaux, Burgundy, Chianti, Rioja and Barolo (for reds) and Burgundy, Alsace and the Loire (for whites). At the mid- to upper price levels, the Rhone, south of France, Chile, South Africa, southern Italy and Australia all offer good value for money. I'd suggest one wine from each group.
What to take
As a guest, start by asking your host what the meal is and taking something that might go with that. If they prefer not to tell you, assume that your wine won't be drunk that night and take them something of a quality that will at least do for a Sunday lunch.
Don't, whatever you do, take them something cheap and cheerful – whichever way you look at it, it's an insult. Better to take good chocolate than bad wine.
Dinner party tips
Serve your wines properly, which means chilled for whites and (if possible) decanted for reds.
A bottle of sparkling wine to start with really gives an evening a lift, and needn't be that expensive.
When it comes to buying a bottle of something a bit special, try your local independent merchant rather than a supermarket. Tell them your budget and the occasion, and they'll probably get you something fantastic.
Filed Under: Food & Cooking
About the Author: Leona Kesler is a head-chef at a very popular food restaurant in New York. Also she is a blogger who shares her experiences, tips, and other informative details about food and cooking. Her recipes are featured on many magazines.
Comments (0)