By Leona Kesler on Feb 09, 2018 with Comments 0
---
As with all types of food, but especially Asian cuisines, there is no such thing as a 'one bottle suits all' match for Chinese food. If you're in a decent-sized group the best bet is to pick a selection of different bottles and try small amounts of different wines with each dish. If you're there as a couple, you'll probably have to resort to wines by the glass to get really good matches right the way through the meal.
That's the bad news. The good news is that Chinese food does offer some genuinely good matches. Sauvignon Blanc (or champagne, if you're pushing the boat out) works with spring rolls and most seafood dishes, while lusher whites such as Chardonnay or Semillon go with bigger-flavoured chicken or pork dishes. Avoid anything that's searingly dry like Sancerre or Chablis — the sweetness of many Chinese dishes means the wine needs a little weight and lushness to it.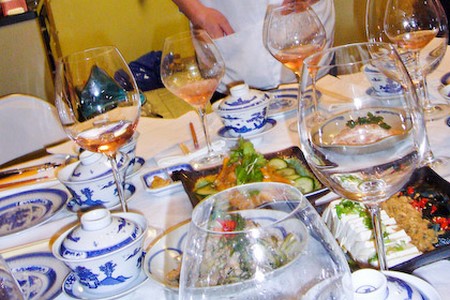 Another advantage of Chinese food is that, while it's usually heavily flavoured, it's rarely actually hot, which means that red wines can play more of a part. As with the whites, the natural opulence in most New World wines means they usually make a better match.
Duck dishes are a classy partner with New Zealand Pinot Noir, while staples like beef and black bean sauce work with bigger, sweeter New World wines such as Chilean Carmenere, Californian Merlot and Aussie Shiraz.
The gewürztraminer conundrum
Gewurztraminer is often touted as a good match with Chinese food, but its big, perfumey flavours mean there's a possibility for hideous clashes, too. If in doubt, ask yourself whether the dish you've chosen will work with a side dish of lychees, Gewurz's signature flavour, if it won't, stick with something more neutral, like Pinot Blanc or Chardonnay.
If you want to order some Chinese food, there is a chinese food online order store that you can contact anytime of the day.
Filed Under: Food & Cooking
About the Author: Leona Kesler is a head-chef at a very popular food restaurant in New York. Also she is a blogger who shares her experiences, tips, and other informative details about food and cooking. Her recipes are featured on many magazines.
Comments (0)