By Cody Riffel on Feb 18, 2010 with Comments 0
---
As a wedding photographer, capturing images of a couple's happiest moment is no easy feat. It is your job to make your wedding photographs reflect their devotion and commitment to each other. Most seasoned wedding photographers and wedding event videography professionals have mastered the art of capturing beautiful moments. But for beginners, it pays to know a few basic tricks.
Familiarize yourself with the location and people
Knowing the place is an advantage. It will give you an idea on the best angles from which to shoot. Also, being familiar with the important people in the coming event will save you time. It makes you aware of whom should be allotted more photos come wedding day.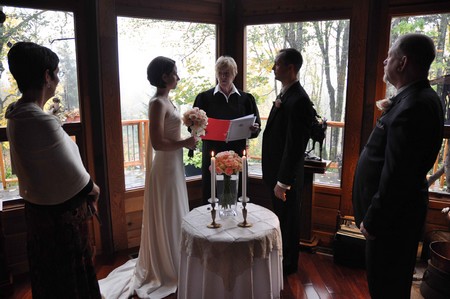 Know the flow and mark special parts
It will serve as your guide during the entire time so you will not miss anything important. The wedding is a series of ceremonies that accounts for one great moment. Everything should be captured.
There are certain moments during the wedding that should be eternally preserved: the bride walking down the aisle, the couple kissing and sealing their vows. These are the most important moments that should not be missed.
Know when to come closer
Remember that the ceremony is for the couple. It is important that you take photographs as discreetly as possible. You should never distract the participants. On special parts, though, come closer. It would show better details. Facial expressions become sharper and more distinct.
Include candid shots
It doesn't mean that wedding photos should all look formal. Try to take photos when people are not in a stiff posture. Have a snapshot of the bride laughing or the groom wiping sweat on his forehead. Take photos of the parents crying. All these will make the entire photo collection more memorable.
Account for details
Remember to take photos of the wedding rings. Take a picture of the bride's gown and the wedding cake. It might be a good cover for the photo album or souvenir CDs.
Also, while shooting, consider the background. Backgrounds can intensify a shot but they can also ruin a potentially perfect shot. The couple's shining moment can be spoiled by one unknown person at the back. Make sure that the background is as tidy as possible.
Change perspective
Take a shot of the bride while walking, but instead do it from behind. You can also take a shot from the second floor of the chapel or church. You can learn more on what makes a good wedding photographer here.
Take more (and save more) shots
Certain parts of the wedding should be on a continuous shooting mode. At times, it is during the second or third shot that truly captures the moment. Don't erase photos. Some look at the photos and erase those that they deem as not good enough. However, some photos later turn out to have captured facial reactions better. The trick is to preserve everything, and then select later.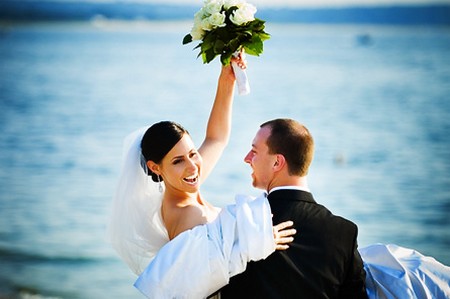 Finally, have fun
Don't miss the fun just because you take the photos. You too have to relish every moment. If you enjoy your job, it would reflect on the photographs you take.
Filed Under: Arts & Entertainment
About the Author: Cody Riffel is a regular contributor to MegaHowTo. She likes to write on variety of topics, whatever interests her. She also likes to share what she learns over the Internet and her day-to-day life.
Comments (0)