By Fred Goodson on Oct 29, 2010 with Comments 0
---
The thing about pets is that they can be pretty unpredictable, making them quite a challenge to photograph. However, with lots of patience along with some simple tips, you will be able to capture excellent, candid pet photographs.
1. Choose the right background
When taking photos of your pets, a plain background is most ideal. Remove any clutter such as newspapers or household objects that would compete with your camera for attention. If possible, hang a solid-color cloth or paper to cover up the distractions.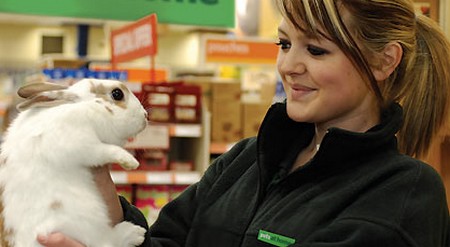 2. Get closer to your pet
One of the most common mistakes people make when shooting their pets is shooting from afar. Move closer to your cat or dog to get greater composition within the frame. Remember, you are taking a picture of your pet so make sure that your pet takes up most of the space in your frame. This creates more impact.
3. Take photos on the same eye level as your pet
Unless you want an angle in which your pet is looking up to you, take photos on the same eye level as your pet. Get down on your knees. Lie down if you must. Never mind if you get a little dirty. If you don't want to, you can try moving your pet to an elevated position such as your porch steps or the sofa. However, the snapshot will not be as natural.
4. Avoid using flash
Red eyes are more distinct in animal pictures than in human portraits so we suggest turning off your flash. If you decide to still use it, soften its light a bit by covering it with tissue or a thin cloth. If the flash is detachable, point it to the ceiling or wall rather than to your pet. That way, the light will be bouncing off the ceiling or wall and will be lovelier than direct flash.
Alternatively, you can use natural lighting. Take your pet outside and take a picture there. Avoid direct sunlight, though, as it has a tendency to alter the animal's natural color in the photos. If you are not a fan of the outdoors, you can just have your pet positioned near a window where the sun shines through.
5. Get their attention
Some animals get distracted when a camera is in front of their faces. Try to get their attention by dangling their favorite toy or treat in the right direction so that they would hopefully hold their interest there. Also try acting silly to divert attention. It would be best if you have someone with you to help you out.
Filed Under: Pets & Animals
About the Author: Fred Goodson has a passion for pets and animals. He has 4 dogs and is planning to have another one. He is also a blogger who writes about pets and animals. Currently, he is living in New Jersey.
Comments (0)