By Jason Prickett on Apr 24, 2010 with Comments 0
---
As the fastest, cheapest way to redecorate a room, it's no surprise that paint is the most popular decorating choice for walls. But don't stop there: the right type of paint can cover wood, metal, and tiles.
Preparing to paint
Good preparation affects the finished result, so if you want what you paint to look good and last, it is essential to prepare surfaces thoroughly.
Remove as much furniture as you can from the room and cover what remains with dust cloths. Cover the carpets too. Always work in the following order:
Ceilings
Walls
Doors
Window frames
Skirting boards
Radiators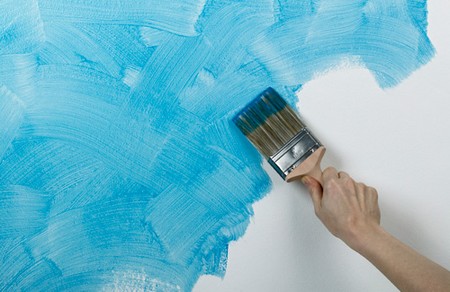 Preparing the walls
Covering existing paint with fresh paint is the simplest method of re-decoration. If there is wallpaper, you should strip it off first; however, many people do take the shortcut of painting directly onto paper. The effect is less uniform, but it may be adequate in less important rooms that you want to decorate quickly. You may also consider sandblasting the walls to prepare them for painting.
Remove nails and picture hooks.
Wash ceilings, walls, and woodwork with a solution of water and sugar soap (or very mild detergent). Rinse, and allow to dry.
Treat any mould that may have formed as a result of condensation. Scrape it off, then wash the wall with very diluted bleach, air-dry, and apply fungicide following product instructions.
Apply wood primer to bare wood on doors, windows, frames, and skirting.
Rub down metalwork with steel wool to clean off rust and flaking paint. Apply metal primer.
Fill small wall and ceiling cracks with filler. This comes pre-mixed; simply apply it with a flat metal filling or putty knife, so that it stands slightly proud of the wall. When it's dry, smooth and level it with sandpaper.
On the ceiling, long straight cracks will be very difficult to disguise, but it can be more effective to paper the ceiling, and then paint over it, you may need a decorating contractor to do this.
Go over old gloss paint on wood with a sheet of rough sandpaper, to provide a surface the new paint can grip.
Finally, check again for dirt and dust, wipe all surfaces to be painted with a damp cloth and remove fingerprints on wood with a cloth dipped in white spirit.
Choosing the right paints
To ensure there is no shade variation, try to buy enough paint before you start. The cans generally state how much area they cover, but you may need more paint than recommended on the can if:
The walls are porous.
You are inexperienced in painting and may overload your brush.
You are covering a deep or contrasting colour.
Water-based paints
Many different paint finishes are now available as water-based paint. They dry quickly, need no primer or undercoat, don't smell unpleasant, and splashes can be removed it they are cleaned oft quickly enough.
Vinyl silk emulsion
This water-based paint is used tor walls and ceilings. It dries quickly, needs no primer or undercoat (in normal conditions), and has an acceptable smell.
Matt emulsion
A paint that gives a flat no-sheen look. It will hide uneven surfaces and small flaws, but marks easily.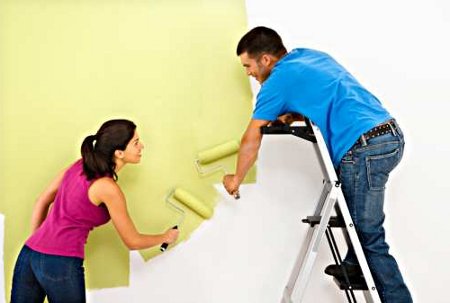 Eggshell and satin
Mid-ground paint that is suitable for all around the home, it creates a tough, washable surface.
Gloss
Gives a high-sheen look and stain resistance that is great for hallways and playrooms.
One-coat paint
A thicker paint that gives excellent coverage without a second coat. However, each tin of paint covers up to one third less wall than standard emulsion. Check the label for how much you'll need before you buy.
Textured paint
Flecks in this paint give a random ripple effect that can look good on ceilings and uneven walls.
Filed Under: Home & Maintenance
About the Author: Jason Prickett loves to write about home maintenance and stuff you can do yourself instead of hiring any professional. His step by step guides will assist you in completing your home maintenance tasks.
Comments (0)