By Bruno Silva on Apr 24, 2010 with Comments 0
---
Clothes should be hung on hangers in a dark, well-ventilated wardrobe or folded correctly and stored flat. Although space may be at a premium, it's important that each item has sufficient room. Natural fabrics need to breathe and too main clothes hanging together leads to crushes and creases in all types of fabric.
Hang: shirts, jackets, trousers, coats, dresses, skirts
Lay flat on shelves: underwear, t-shirts, jumpers, cardigans, swimwear, joggers and other sports kit.
Keep on racks: ties and belts, hats and scarves.
Trousers
Fold along the crease and drape over the bar of a trousers hanger, or use a grip hanger. If you wear formal trousers to work, an electric trouser press ensures they stay immaculate. The press, which can be fixed onto a wall, removes knee-creasing and can also store trousers overnight.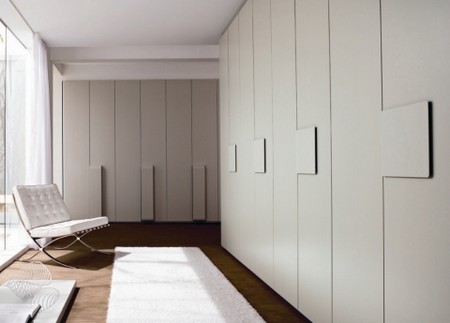 Skirts
Hang these by the waistband loops. Don't use pressure hangers that expand to fit the garment on skirts with elastic waists. They can make them stretch.
Shirts
Fasten the buttons and give each shirt a hanger!
Dresses
Hang inside-out if rarely worn to protect them from dust. If a dress is too long for the cupboard, sew loops inside the waist seams and hang it from these.
Jumpers
Fold the arms behind the back, and then fold in half width-ways. Otherwise hang them.
T-shirts and sweatshirts
Hang these if space permits; otherwise, store them flat. Fold across, never lengthways.
Jackets
Hang on quality padded or wooden hangers.
Coats
Ideally, hang these in a cloakroom. If you prefer to use a wall peg near the door, use a hanger to hold the coat.
Wardrobe checkpoints
Clothes that are worn frequently need to be accessible. This is particularly true of work clothes when dressing time may be limited.
If you have a half dozen work shirts of the same style, devise a simple rotation system to ensure even wear. For example, place newly washed shirts on the left and take shirts to wear from the right,
Group clothes together by type and colour – for instance, black skirts, then navy skirts.
Avoid using metal coat hangers as they distort shoulder shapes. Use wood or plastic instead.
Making more room
Re-organize built-in furniture. Remove drawers inside wardrobes to create shelf space for shoes. If you remove several shelves, you'll have room to fix a hanging rail for shirts or skirts.
To make twice as much hanging space for separates, install a second rail halfway up the height of the main wardrobe.
Make space by taking out of the wardrobe anything that doesn't currently fit you or you haven't worn since the previous season.
To make more shelf space in your wardrobe, buy some shelving made from heavy cotton that can hang from your wardrobe pole.
Filed Under: General How To's
About the Author: Bruno Silva is an entrepreneur from Portugal with over 15 years of experience in Online Marketing. He is also a blogger and writes on variety of topics from online marketing to designs, cars to loans, etc.
Comments (0)