By Jason Prickett on Jul 30, 2010 with Comments 0
---
We wear 20 per cent of our clothes 80 per cent of the time. The old stand-bys that you are drawn to on a late morning are the clothes that take little time to put together. You know what I mean. You look good and feel good with minimal fuss. Go with your instincts. Figure out what you really like and why. Be decisive. Pay attention to how you look and how you feel. Have a good look in the mirror and like what you see. Look at how you use your space, inventory your clothing items, shoes, scarves, and other accessories, and measure the entire area in order to create the best design to maximize your closet systems.
The uniform
Go to your closet and take out the 20 per cent that you wear most often. You will instantly know what they are. Think about the reasons that these are your favourites. Are your choices based on colour, type of clothing, shape or fabric? Whatever the elements are that make certain items work for you, remember them the next time you go out for some retail therapy. Make a list of the labels that you feel best in. Look at the colours you wear most often and add to your successful items more of the same.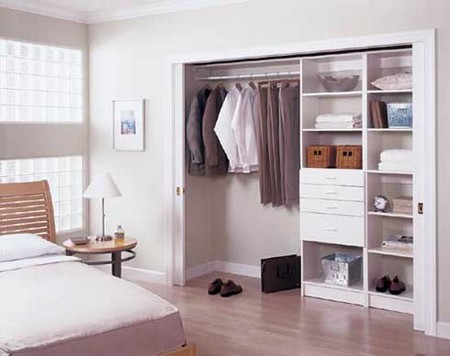 These clothes will become your uniform. It becomes brainless and painless. Take out the indecision every morning and save time. Be confident.
Get a friend round for an honest opinion. Try on your favourite clothes. Listen to what they say. Have another look and see what they mean. Take on board their suggestions. Let go of the past. Leave room for the future.
The occasion
Think about the different people that you need to be. We all have different personas for different areas of our lives. Get the balance right. Look at your closet. Are you spending enough time at play? Fill in the gaps. Know what you need. Are we what we wear? Take some time to think about it.
The basics
We all need to have a certain amount of clothing basics. These should be in neutral shades, such as black, white or natural, so that they can be mixed and matched to create a wider variety of looks. It also means you don't have to launder as often. It saves time.
Underwear
Have enough for two weeks. Find your favourites – the things that always feel comfortable – and stock up.
Socks/tights
Enough for seven days. If you work out, have the same amount of gym socks. Buy all the same kind to save time in sorting. Keep them in pairs.
T-shirts of neutral colours -black, white, natural or navy x 4
Buy 100 per cent cotton as this allows your skin to breathe. Make sure that they fit really well. Be creative. Dress them up under a suit for casual chic or down for pure relaxation.
Smart shirts/blouses x 5
Mix and match colours and textures. As an alternative to shirts, try silk or rayon bodies or lightweight jumpers in wool, cotton or cashmere.
Relaxed shirts x 5
Try linen. Forget about the wrinkles. Be less confined by going a bit bigger. Feel the fabric. Go for colour.
Smart trousers or skirts x 5
Give yourself choices – black, navy and neutral in solid colours and patterns.
Jackets x 3
Invest in well-cut jackets. Make sure the shoulders fit. Move around when trying them on. Check out the back.
Jumpers x 3
Use them for warmth or instead of a jacket. Choose wool or heavyweight cotton in the winter and lightweight cotton or silk in the summer.
Smart shoes x 4 pairs
Rotate them often. Two pairs should be black. Keep them clean and resole them as soon as they need it.
Casual shoes x 2 pairs
Make them fun and comfortable. Kick around. Hang out.
2 items of outerwear
Think casual. Think smart.
Filed Under: Home & Maintenance
About the Author: Jason Prickett loves to write about home maintenance and stuff you can do yourself instead of hiring any professional. His step by step guides will assist you in completing your home maintenance tasks.
Comments (0)