By Cody Riffel on Mar 17, 2010 with Comments 0
---
Much PR activity is event based, making event management a fundamental PR skill. Come up with a creative idea for an event, select a commendable venue like this Event rental space in Calgary or prom venue near Utica, MI with care, and plan down to the very last detail to ensure a day to remember. If you need help you can always contact an event management company.
Planning an Event
There are all manner of PR events that you may consider planning, from product launches and factory, store, or new premises openings to parties, open days, corporate entertainment, exhibitions, open days, press conferences, and media trips. Events are organized to profile-raise, build customer loyalty, and enhance reputation. Some events require no more than organizational skills; others call for creativity, too. On occasion, you will need to come up with interesting, original, and appropriate ideas for memorable events. This might involve booking an unusual venue – such as a waxworks museum, film studios, or butterfly farm – or using a celebrity sportsperson, film star, or pop singer.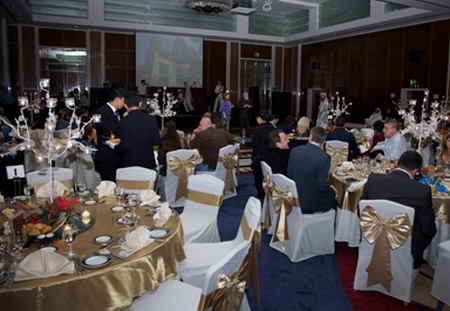 Setting the Date
The date of an event may be predetermined, such as your organizations anniversary. Often, though, you will be able to influence it. If you are able to dictate when an event will occur, aim to make it coincide with another linked or topical occasion. An event for couples may benefit from being held on Valentines day, for example. Beware of competing events; it would be unfortunate if someone else's high-profile occasion stole the limelight from your own.
Selecting a Planning Committee
Small events can easily be managed by one person, but you will need the help and support of others when planning major events. Establish a planning team for significant events, involving people with the time and skills to assist. Look for helpers who are well organized and enthusiastic, and involve them at the earliest stage so that they have a stronger stake m your events success. It is easy when event planning to overlook small but vital issues, so list what needs to be done to the last detail and ensure that a team member is given responsibility for each item.
Briefing Key Participants
If you are asking people to perform a function at an event – such as giving an after-dinner speech or officiating at an opening – provide a comprehensive brief. This is especially important if they are unfamiliar with your company. The better informed they are, the better they will do the job. Explain, preferably face-to-face, and followed up in writing, what you expect from them. State clearly the purpose of the event, what you want them to do, and who will be there. Specify when they are to arrive, and when they can expect to leave. If necessary, include some background information on your organization, a map, and car-parking details.
Booking a Venue
Draw up a list of possible venues so that you can compare the advantages and disadvantages of each, bearing in mind costs, location, capacity, and facilities. Think about the type of atmosphere you wish to create: will it be a serious occasion, or a fun, informal one? The Flagstaff conference venue will set the mood of your presentation. Consider whether the venue is accessible to your guests – is it within easy reach of public transport, or will you need to organize transportation?
Check that a proposed venue can accommodate your needs, that it is large enough for your requirements, and that it can meet any special needs of your guests, such as providing disabled access or an induction loop.
Shop around, as prices vary considerably. Look at sample menus and ensure that people with special dietary needs -vegetarians, vegans, people with food allergies, etc. – can be catered for. Check that the venue allows outside caterers.
Keep a reserve list so that if a guest is unable to attend, you can diplomatically fill the place with someone from your back-up list. Design and print invitations for everyone on the guest list and distribute them in plenty of time.
Try to see any entertainers in action before you book them. Find out what facilities entertainers will need, such as a dressing room, a public address system, lighting, backing music, or a nearby power supply. Those who are looking to rent portable staging for schools may get in touch with Portable Staging UK for a quote.
Dealing with Legal and Safety Matters
When you organize an event, you are responsible for the safety of people attending it and must take all reasonable steps to protect them. Investigate what is required to ensure that your event is safe and legal. Local and national laws may apply, perhaps requiring you to obtain a license for public entertainment or the serving of alcohol. Police permission may be needed for certain types of event. There are possible food hygiene laws to consider. You may need stewards and first aiders. Safety barriers may be necessary. Take care to remain within the law, gain sufficient public liability insurance, and seek the necessary permits. If you are planning a large public event, consider hiring event security services or armed security services to better manage the crowd and ensure everyone's safety and security.
Filed Under: Arts & Entertainment
About the Author: Cody Riffel is a regular contributor to MegaHowTo. She likes to write on variety of topics, whatever interests her. She also likes to share what she learns over the Internet and her day-to-day life.
Comments (0)