By Roberta Southworth on Aug 21, 2020 with Comments 0
---
A brunch on the New Year is definitely a very enjoyable event for family and friends and also a nice way to welcome the coming year. Not much effort is required to arrange a New Year's brunch party. And then of course, most people will be tired and weary of all the uncountable New Year's parties you have attended. A brunch is ideal for it allows you to have ample time to prepare. Some tips that will help you with a New Year's brunch are:
Procedure:
First of all, arrange all the plans of your party and send invitations well beforehand. This will help you know who all are the expected guests. Make the scheduled time 10 or 11 AM for your New Year's brunch.
Select a menu for the brunch that is substantial, but undemanding. Go in for such dishes that supposedly bring good fortune on the New Year's such as legumes, green vegetables, salmon, pork and bright fruits.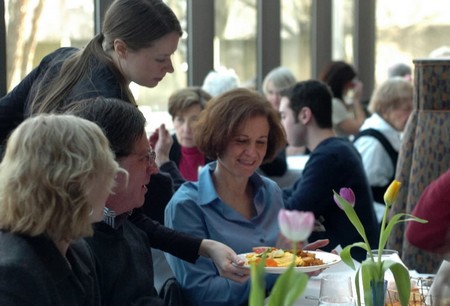 Get rid of the Christmas decorations like the Christmas tree, except some tinsels as well as holiday wreaths. Arrange for some vibrantly colored flowers as well as fruits. Arrange for some Christmas carols or some pulsating music to set up the mood for New Year.
Prepare and purchase all the ingredients well in advance. Try to shop for these along with the New Year's Eve dinner. Make a few dishes one night before like the casserole, for then you just have to reheat these and serve.
Go in for finger foods, like a mixture of crispy breads and rolls, eggs, ham, bacon, cold cuts as well as spreads. A thick soup will be very appropriate, keeping in mind the weather, and those people who overate one night before. Also make some salads, fruits as well as vegetables, chips and some dips. Try to serve your dishes in a buffet. To make sure the food is hot, keep some items in chafing dishes.
To cover the buffet table, choose a very shiny color for the tablecloth like ice blue or even silver. Keep the fresh flowers along with the fruits on an end of the table. The food items will occupy the left space of the buffet table.
Go in for mimosa champagne to toast your New Year and keep provisions for water, juices, tea as well as strong coffee. You may go in for hot chocolate as well with some marshmallows. Just as a considerate gesture, arrange for some painkillers for some of the guests.\
For more good fortune on the New Year, prepare some desserts to get over with the brunch.
In case you want to present gifts to your guests, go in for some tiny good fortune charms such as a small bamboo plant. Make sure you choose something that is easy to take care of. Though you may not hold belief in the Eastern traditions, still starting a New Year by caring for a life form can never be a bad thing.
Filed Under: Food & Cooking
About the Author: Roberta Southworth is a psychiatrist by profession. She likes to help out people by writing informative tips on how people can to solve their family and relationship issues. She is currently staying in Ireland. She has 5 years of couple counseling experience.
Comments (0)